Shares in chipmaker AMD rose nearly 10 percent after it beat Wall Street forecasts and upgraded its outlook.
With the company's Ryzen CPUs for desktop PCs proving popular with gamers, and its Vega GPUs finding success with cryptocurrency miners, earnings were up and AMD's quarterly losses dropped sharply. While these results proved enticing to traders, another reason for the surging share price is a belief that the recently-launched Epyc server chip will provide a whole new revenue stream.
Gaming and Ethereum mining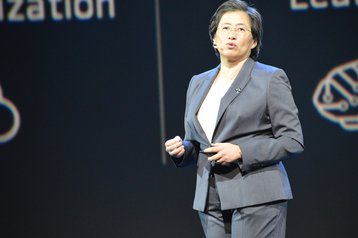 AMD saw its second-quarter revenues rise by 19 percent to $1.22bn, higher than the $1.16bn predicted by analysts, and 24 percent above the results it published the year before. The company still made a loss, however, losing $16m on a GAAP basis.
The Computing and Graphics division saw revenues increase 51 percent to $659m. It made $7m in operating income - the group's first quarterly profit in three years and a huge improvement over last year's $81m loss.
Ryzen proved particularly popular with gamers, while "demand for Radeon RX GPUs was strong in the quarter, driven by gaming and cryptocurrency mining," CEO Dr Lisa Su said in an earnings call (transcribed by Seeking Alpha).
The company expects third-quarter revenues to grow further, saying in a statement: "AMD now expects annual revenue to increase by a mid to high-teens percentage, compared to prior guidance of low double digit percentage revenue growth."
As for data centers, Epyc's release was too late to figure in the results, but AMD was keen to tout its latest product.
Su said: "With the strong global ecosystem and customer interest we have built around our Epyc processor family, we are on track to reenter the data center market in a major way.
She added: "In terms of what to expect in the revenue ramp, we started shipping early volume in the second half of June. We would expect that we continue to ramp that revenue through the second half of the year. We would expect some additional customer announcements in the second half of the year.
"And then as we stated with both cloud and the enterprise accounts, depending on their qualification cycles, it can take anywhere up to four quarters to qualify the parts. But so far so good. I think very good traction, and we continue to lean in hard on the data center opportunities."
For more on AMD, Epyc and the fight for the server market, be sure to subscribe to the magazine. In our next issue we talk to Dr Lisa Su, as well as profile the market leader - Intel.