AMD has revealed the official name of the processor that it hopes will enable the company to compete with Intel in the data center.
Previously codenamed Naples, AMD's server chip based on Zen microarchitecture will be called Epyc.
Fantastyc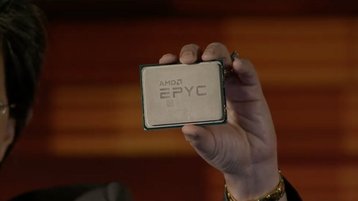 The specs for Epyc are the same as those previously reported under the Naples name - it has a 32-core System-on-Chip design, with support for two high-performance threads per core, and eight channels of memory.
In a 2-socket server, it has support for up to 32 DIMMS of DDR4 on 16 memory channels, delivering up to 4TB of total memory capacity. Naples also features high-speed I/O supporting 128 lanes of PCIe 3.0.
"With the new Epyc processor, AMD takes the next step on our journey in high-performance computing," Forrest Norrod, SVP and GM of Enterprise, Embedded and Semi-Custom Products, said.
"AMD Epyc processors will set a new standard for two-socket performance and scalability… We believe that this new product line-up has the potential to reshape significant portions of the data center market with its unique combination of performance, design flexibility, and disruptive TCO."
But the chip maker is yet to reveal pricing. Earlier this year, Norrod talked to DCD in detail about the server processor and teased that the price would be competitive.
He said: "Intel has some very, very, very, very high price server processors whose margins greatly exceed that of the one dollar bill. Even if I had a product - and I think I will have a product - that can compete with those, I'm not going to price something at 8-9 thousand dollars a socket, that's ridiculous."
Today, at the AMD Financial Analyst Day, the company revealed that it had scored at least one customer to trial its new product - Dropbox.
Akhil Gupta, VP of infrastructure at Dropbox, said: "Dropbox is currently evaluating AMD Epyc CPUs in-house, and we are impressed with the initial performance we see across workloads in single-socket configurations.
"The combination of core performance, memory bandwidth, and I/O support make Epyc a unique offering. We look forward to continuing to evaluate Epyc as an option for our infrastructure."
With a targeted release date of Q2 2017, Epyc is expected to start shipping soon.