Concrete maker American Rock Products (ARP) is making more sustainable concrete for AWS' data centers in Oregon.
ARP, based in Pasco, Washington, worked with AWS to development concrete mixes which produced less carbon dioxide for new data centers in northeastern Oregon, which lowered the carbon footprint of the concrete in the buildings by up to 23 percent.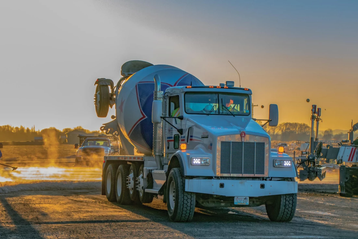 As part of the process, ARP completed environmental product declarations (EPDs) on all products at its plants, so its other customers now have access to carbon emissions data, which will help encourage other projects to take the lower-carbon option.
Concrete is one of the world's biggest sources of man-made greenhouse gases, contributing eight percent of the world's CO2 emissions, making it a worse polluter than the airline industry.
Concrete uses cement to bind aggregate - material like sand or gravel. Portland cement contains calcium oxide, which is made by heating calcium carbonate to drive off CO2 and water. This not only generates CO2, it also uses massive amounts of energy to reach the 2600°F/1400°C temperature required - and this energy usually comes from fossil fuels.
Various methods have been proposed to lower the carbon in concrete. For instance, in many of its data centers, and its HQ2 headquarters building in Arlington Virginia, AWS is using CarbonCure, which injects CO2 back into the mix, a process that helps to make the concrete harder, and mitigates some of the carbon emitted. Other ideas include using other materials to reduce the quantity of Portland cement in the mix.
All these approaches have to be done regionally, as concrete is always made locally because of the high cost of transporting it.
AWS' design standards for new US data centers now require low-carbon concrete, with at least 20 percent less embodied carbon. These standards are going to be expanded around the world.
In the Washington/Oregon area, AWS' construction team spotted that there were no sustainable concrete options, so AWS and ARP spent a year collecting data and studying ARP's materials, methods, and supply chain, including mining and transport.
ARP used life cycle assessment consultants to produce EPDs, summarizing environmental impacts across the concrete's life cycle, and spotting hot spots where carbon emissions could be reduced.
"We are very appreciative of the continued collaboration around sustainability with the AWS team," said Mike McBreen, vice president of ARP. "The work is by no means complete, as regular meetings with AWS procurement and engineering are ongoing to continue to identify opportunities for further reductions in carbon emissions in the concrete we supply for future data centers."
The EPD data will help other customers choose lower-carbon options, driving sustainable development in the Oregon cities of Boardman, Hermiston, and Umatilla, and the Tri-Cities, Washington, area, says ARP.
ARP reports that it is already recycling used asphalt back into finished asphalt mixes, replacing Portland cement with supplementary materials in ready-mix concrete, reusing returned concrete to produce "ecology blocks", and crushing and selling recycled concrete.
Amazon has promised to be carbon neutral by 2040, but its recent sustainability report revealed the company's footprint went up by 18 percent following a 19 percent rise the previous year. The company's emissions have been driven by rapid expansion, and the company's retail business has been criticized for ignoring emissions associated with third party products - which amount to 99 percent of the carbon footprint of that retail operation.