Apple has canceled its planned €850m (US$1bn) data center campus in Athenry, County Galway, Ireland, after years of delays.
The project was announced in early 2015 alongside a planned Danish data center, but was beset by legal challenges that stymied development. The data center in Denmark is set to be joined by another site in 2019.
The timeline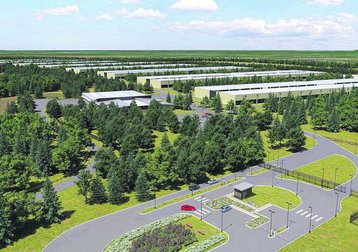 Galway County Council gave permission for the site to be developed as a data center campus in September 2015, but more than 20 appeals were soon lodged. Objectors said the project would increase noise, pollution, traffic and risk of flooding, and harm local populations of bats and badgers. Multiple hearings were held.
In August 2016, planning authority An Bord Pleanála approved the data center, as well as an electrical substation, but that decision too was challenged.
Local residents Allan Daly, Sinead Fitzpatrick and Brian McDonagh believed that the Environmental Impact Assessment (EIA) that An Bord Pleanála carried out was flawed, as it only looked at the first 263,000 square foot (24,000 sq m) data center, and not the potential eight facilities that Apple said it was considering.
Daly and Fitzpatrick also raised issues over power consumption, greenhouse gas emissions, the size of the site and claimed that "the development is not of strategic importance and is not supported by regional policy."
Over a year later, despite efforts to fast-track a decision and after a delay in finding judges for the case, the Commercial Court agreed with An Bord Pleanála. Justice Paul McDermott ruled that the EIA had been carried out in an appropriate manner, and that Dublin-based McDonagh was not living physically close enough to the site.
McDermott added that McDonagh had failed to elucidate the grounds for his appeal to a satisfactory level, as he had been trying to build a data center in Wicklow, a town neighboring Dublin on the East coast of Ireland. He had also previously tried to sell the land to Apple.
Daly and Fitzpatrick then attempted to appeal the decision (a process that was itself delayed by Hurricane Ophelia), but were refused permission by the High Court. In December, they applied to the Supreme Court for permission to appeal the refusal.
On the 3rd of May 2018, the Supreme Court agreed to hear the appeal. Now, Apple has said it will no longer fight the case.
Now what?
"Despite our best efforts, delays in the approval process have forced us to make other plans and we will not be able to move forward with the data center," Apple said in a statement.
"While disappointing, this setback will not dampen our enthusiasm for future projects in Ireland as our business continues to grow."
While there were objections to the project raised by some residents of Athenry, others came out in support of the development, rallying behind the Athenry for Apple Facebook page. The group held two marches in support of the data center (also attended by a small number of anti-Apple protesters), and hung up posters around the town.
Writing on the group's page after Apple's decision, Ireland's Minister of State for the Diaspora and International Development, Ciarán Cannon, said: "I very much regret that Apple will not be pursuing its plans to construct this data center, especially as the project would have been a source of significant investment and job creation for Galway and the West of Ireland.
"It's deeply disappointing for all those who worked so hard to secure this potential investment in the first instance, not least the Athenry for Apple group. The kind of reforms we need are already underway, particularly in relation to our legal system."
Indeed, the Irish government has introduced new legislation to accelerate the data center planning process in March 2018, with data centers categorized as "strategic infrastructure developments," enabling applicants to bypass local authorities and submit their requests directly to An Bord Pleanála.
Such changes came too late for Apple, as did promises by Ireland's head of state, Taoiseach Leo Varadkar. The nation's leader met Tim Cook in November last year and pledged "to do anything that is within our power" to keep the project alive.
Despite the decision to cancel this particular project, Apple said it would continue to invest in the country, and expand its European headquarters in County Cork. It is also preparing for a separate legal battle - an appeal against the European Union's ruling that requires it to pay €13bn in back taxes to the Irish government.