Apple added 350MW of renewable energy supply in 2020, due to the most recent projects in its planned $4.7 billion Green Bond program, according to a report on its investor site.
All told, the Bond program is due to generate 1.2GW of wind and solar power around the world. In 2020, Apple used money from its Green Bond investment scheme to add 17 projects which included the production of 350MW of renewable power in the US and Europe. One of the most prominent such projects is the 50MW solar farm in Turquoise Nevada, which powers Apple's Reno data center.
DCD's Sustainability Supplement shows how data centers can help fight climate change
Nevada solar farm powers Apple facility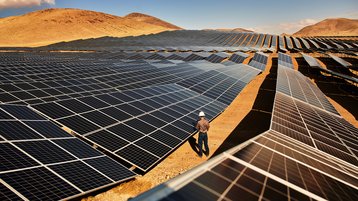 The Green Bonds are not Apple's own money: the company sells them to investors, and then uses that money for projects combatting or delaying climate change, such as building renewable capacity are investment
"We all have a responsibility to do everything we can to fight against the impacts of climate change, and our $4.7 billion investment of the proceeds from our Green Bond sales is an important driver in our efforts," said Lisa Jackson, Apple's vice president of Environment, Policy, and Social Initiatives. "Ultimately, clean power is good business."
Apple was the first tech company to issue a Green Bond, for $1.5 billion, in 2016, shortly after the United Nations' COP21 conference which set out the Paris Climate Agreement. When President Trump withdrew the US from the Paris Agreement, in 2017, it followed up with a $1 billion round, and then added a third set of €2 billion ($2.2bn) in Europe in November 2019.
Apple has now allocated more than half of the $4.7 billion pot to projects which include carbon mitigation and sequestration as well as renewable energy generation. The company plans to be carbon neutral across its entire business, including its ecosystem and product lifecycle, by 2030. Its data centers have been operated through renewable energy offsets since 2014.
The 180-acre Turquoise solar farm in the Reno Technology Park cost $60 million and supplies 50MW of power to Apple. It sits alongside three other Nevada projects totaling 270MW, and has funded 236 clean energy jobs, Apple reports.
Apple has a 112MW virtual power purchase agreement (PPA) to fund an Illinois wind farm, which offsets Apple's electricity use in the Chicago region. Microsoft points to this project as one which stimulated cooperation, as other companies came on board to buy power from the same utility.
Another collaboration brought Etsy, Akamai, and SwissRE in with Apple on a 165MW solar project in Fredericksburg, Virginia, which is connected to the region's electric grid.
In Denmark, Apple funded the construction of two of the world's largest onshore wind turbines near the Danish town of Esbjerg. The 200-meter-tall turbines are expected to produce 62GWh of energy each year, and will be a test site for more powerful offshore wind turbines. The power produced there will support Apple's data center in Viborg, with all surplus energy going into the Danish grid.