Technology giant Apple has promised to increase its investment in the United States over the next five years and spend more than $10 billion on data centers. The "expanded capital expenditure" on data centers adds to what the company had already planned to spend on its digital infrastructure.
Overall, Apple plans to invest more than $30bn into its US operations, establishing a new campus and creating more than 20,000 jobs. Taking advantage of a temporary tax discount on cash repatriation, the company will bring most of its $250bn hoard back to the US, paying a one-off tax bill of roughly $38bn - which it said is the largest tax payment of its kind in history.
Making it rain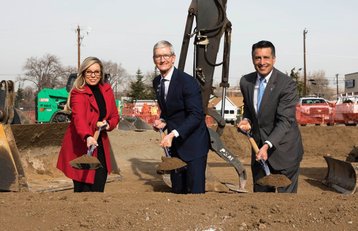 The news was announced as Apple CEO Tim Cook visited a groundbreaking ceremony for the company's data center expansion in Reno. In addition to the Reno facility, Apple operates its own data center sites in seven US states, including North Carolina, Oregon, Nevada, Arizona and Iowa.
The company reportedly uses Google Cloud Platform, Microsoft Azure and Amazon Web Services, but is thought to be reducing its reliance on cloud goliaths that compete with it elsewhere.
"Apple is a success story that could only have happened in America, and we are proud to build on our long history of support for the US economy," Cook said.
"We believe deeply in the power of American ingenuity, and we are focusing our investments in areas where we can have a direct impact on job creation and job preparedness. We have a deep sense of responsibility to give back to our country and the people who help make our success possible."
The company will also increase the size of its Advanced Manufacturing Fund, which is meant to support US manufacturers, from $1bn to $5bn. In addition, it will give a $2,500 stock grant to a large number of its employees.
With the announcement following the passing of a new tax bill late last year, President Donald Trump was quick to claim credit for Apple's decision. He tweeted:
I promised that my policies would allow companies like Apple to bring massive amounts of money back to the United States. Great to see Apple follow through as a result of TAX CUTS. Huge win for American workers and the USA! https://t.co/OwXVUyLOb1
— Donald J. Trump (@realDonaldTrump) January 17, 2018
Cook told ABC News (via FT): "There are large parts of this that are a result of the tax reform and there's large parts that we would have done in any situation. I do believe the corporate tax [reform] will result in job creation and a faster growing economy."
The Apple CEO has long lobbied for a reduction in tax on cash repatriation, which was dropped from 35 percent to 15.5 percent for a year as a temporary incentive. As a result, Apple will have to pay just $38bn in tax; it will save around $47bn compared to the previous tax regime.
Being the US' largest taxpayer, Apple has taken advantage of various other ways to reduce its tax footprint. Its data center in Reno, for example, has been given substantial tax rebates since 2012, and last year the company announced plans to build a warehouse in downtown Reno specifically to lower its taxes.
As for the $38bn tax payment, Cook told ABC News: "I hope - I have that faith - that it will be used for great purpose for the country, whether that's infrastructure or education, or what have you, that will further supply jobs in the US."