Applied Digital Corporation is building a data center in North Dakota designed to host GPUs for non-cryptocurrency use cases.
The company this week announced the groundbreaking of a 5MW 'specialized processing center' next to the company's existing 100MW hosting facility in Jamestown, North Dakota.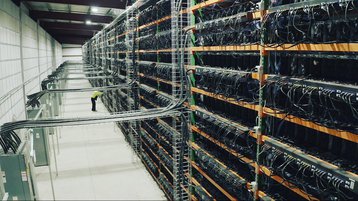 Applied, previously known as Applied Blockchain, said the building will be designed and purpose-built for Graphics Processing Units (GPUs) and aims to host more traditional high performance computing (HPC) applications, such as natural language processing, machine learning, and additional HPC developments.
The 16,382 square foot (1521 sqm) building is planned for energization in the first calendar quarter of 2023.
"Our greatest asset is our ultra-low-cost-power and the ability to build near the source of power in more remote locations," said Applied Digital Chairman and CEO, Wes Cummins. "In the past, data centers were built to support high speed, ultra-low latency communications applications, but these new HPC applications such as machine learning, artificial intelligence, and others require a large amount of compute power rather than ultra-low latency communications. This means the digital infrastructure should be built differently and Applied Digital's homogenous style data centers can streamline and significantly lower the cost for running these applications."
The company said the facility is expected to launch with 300 GPUs, and its first customer is expected to primarily use the capacity for machine learning. Applied also said it is hosting 128 GPUs in a retrofitted portion of an existing building in Jamestown for Web3 applications with an additional non-cryptocurrency customer.
"Natural language processing and other machine learning workloads continue to expand rapidly and Applied Digital aims to be at the forefront of enabling these," said Applied Digital's Co-Founder, Jason Zhang. "Due to the considerable amount of computing power required and the Company's ability to execute, Applied Digital is building greater value for our clients and shareholders."
In November, Applied launched a fund to acquire distressed cryptocurrency assets. The fund and any acquired assets will be managed by a newly formed entity, Highland Digital, which is a 50/50 joint venture between Applied Digital and GMR Limited.
"The creation of this fund and associated joint venture again demonstrates our creativity and strong industry relationships that position us to capitalize on this volatile market," said Applied CEO Cummins. "We have proven ourselves as a leading next-generation data center operator and hosting partner and look forward to deepening our partnership with GMR to take advantage of the opportunities we are seeing on a weekly basis.
The company has its existing facility in Jamestown, as well as a second North Dakota facility in development in Ellendale. A third site is under construction in Garden City, Texas.
In other crypto news:
- Bitcoin mining firm Gridless Compute raised a $2 million seed funding round from crypto-focused venture capital firm Stillmark and Block, Inc. The company seeks to install mining hardware at energy generation sites in east Africa, claiming it will be a 'buyer of last resort' for over producing energy locations to keep them viable or as an anchor tenant for new projects in rural areas with few customers.
Gridless has signed a deal with HydroBox, an African hydroelectric energy firm, for five project pilots, three of which are now in operation in rural Kenya.
- Japanese utility company, Tokyo Electric Power Grid (TEPCO) is working with local mining rig manufacturer TRIPLE-1 to use excess power on its grid for cryptomining. TEPCO and its new subsidiary Agile Energy X have signed a memorandum of understanding with TRIPLE-1 to develop distributed data centers throughout the country that are powered by TEPCo's excess renewable energy. A 1.5MW facility has been deployed in Tokyo.