Aqua Comms, Ireland's first dedicated submarine cable operator, has announced the launch of AEC-2 (America Europe Connect-2), the company's second Trans-Atlantic subsea cable system.
The existing AEC-1 cable went into service in 2016; the new AEC-2 connects the US to Denmark and doubles fiber connectivity between the two countries.
Irish link between US and the Nordics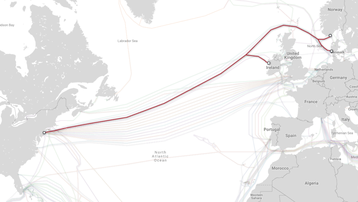 The cable is the first new subsea system directly linking North America to Denmark and the Nordic region in twenty years.
AEC-2 starts from NJFX, a carrier-neutral cable landing station and Tier 3 colocation facility in New Jersey, providing the option to bypass New York City.
The new AEC-2 cable links directly to Denmark offering complete diversity from traditional landing points in the UK. The AEC-2 cable system delivers the latest technology and offers wavelength services ranging from 10G, 100G, and 400G.
Also called Havfrue, (Norweigian for "mermaid") the cable is funded by a partnership between Google and Facebook, and investors include Aqua Comms and Bulk Infrastructure.
Nigel Bayliff, CEO of Aqua Comms, said: "As part of Aqua Comms' expansion in the North Atlantic and across the globe, we are delighted to launch our second Trans-Atlantic cable, AEC-2, providing a new and diverse route that supports the critical data center markets in the US and Northern Europe. Data traffic continues to grow exponentially, and we are looking forward to delivering industry-leading services to our customers over this new cable system."
AEC-2 forms part of the North Atlantic Loop, along with two new cables planned in early 2021, to form a link between the US, UK & Ireland, and the Nordics.