Italian data center operator Aruba has acquired two hydroelectric power plants on the Brembo River close to its campus in Bergamo, Italy.
Announced this week, the newly-acquired hydropower plants – called 'Paladina' and 'Ponte Briolo' – have a combined capacity of 2MW. They share the same water intake on the Brembo River near the company's data center in Ponte San Pietro and are joined by a private adduction canal. Terms of the acquisition were not shared.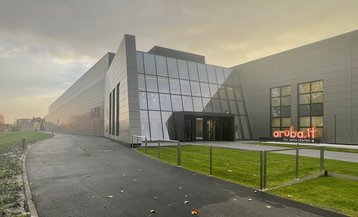 Aruba already owns five hydroelectric plants. It has one on its San Pietro campus also on the Brembo River and four acquired in 2020 in Melegnano on the Lambro River, in Chiuppano and Calvene on the Astico River, and Pontebba on the Fella.
Aruba's network of hydroelectric power plants has a combined capacity of 9.2MW and an average annual output of approximately 50 GWh.
"Energy consumption in the IT sector continues to grow at a high rate, which is why it is more essential than ever to aim for maximum energy efficiency and the production of energy from renewable sources," said Stefano Cecconi, CEO of Aruba. "This first investment in 2023, which anticipates further ones, allows us to increase our capacity to produce clean energy and keep us in line with our long-term sustainability goals."
The company said it would continue to invest in solar panels as well as hydroelectric systems. Two new buildings on the Ponte San Pietro campus – known as DC-B and DC-C and both inaugurated in December 2022 – feature photovoltaic systems with a capacity of 1.2 MW and 1.3 MW, respectively. The company's DC-A building has a 2.4MW system installed.
The Bergamo campus outside Milan features three data center buildings. The original 17,600 sqm (189,450 sq ft) building offers 8,000 sqm (86,100 sq ft) of colocation space across 10 data rooms and 12MW of capacity. Buildings B and C offer 9MW and 8MW of capacity across 4,950 sqm (53,280 sq ft) and 5,950 sqm (64,050 sq ft) of colocation space respectively.
As well as solar and hydroelectric, the campus infrastructure features geothermal systems. The campus has a capacity for up to five buildings totaling 60MW and 200,000 sqm (2,152,800 sq ft).
Founded in 1994, Aruba also operates two facilities in Arezzo and has one under development in Rome, with another facility in Ktiš in Czechia/Czech Republic.
The company said its data centers under construction on the new campus in Rome will also be clad with photovoltaic panels.
Stock exchange company Euronext recently migrated from a UK data center outside London to the Aruba facility outside Milan, citing the regulatory uncertainty of Brexit as one of the reasons for the move.