Latin American data center firm Ascenty has launched a new data center in São Paulo, Brazil.
The company this week announces the inauguration of the fifth unit of the Hortolândia complex, in the interior of the state of São Paulo.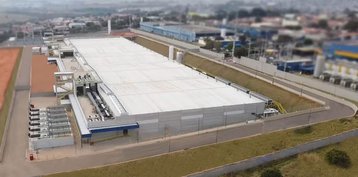 The 21,000 sqm (226,050 sq ft) facility offers space for 3,300 racks and 31MW of capacity. The new facility more than doubles the capacity of the campus to 54MW.
Hortolândia 5 has opened with 20 percent of the facility leased to customers, with a plan to reach 60 percent leased by the end of 2023. The company also has a sixth data center under construction at the site, which is expected to start operating in 2023. Like Hortolândia 5, it will offer 31MW across 21,000 sqm.
"Next year, we will complete the sixth unit of the complex that started in 2015. Hortolândia is an important industrial and technological center that is growing. The investment in the municipality is part of our expansion strategy in line with the high demand from companies for digital services," said Marcos Siqueira, Ascenty's VP of Operations.
In development since 2015, the company said the total investment for the campus so far has been R$350 million (US$67.3m) so far and is forecast to reach R$920 million (US$177m) by the end of the final phase of the site.
Ascenty – controlled by Digital Realty and Brookfield Infrastructure Partners – aims to expand its capacity from 245MW to 368MW by the beginning of 2023. The company has 28 data centers across Brazil, Chile, and Mexico, 23 of which are in operation and five are under construction. By the end of 2022, the company will have started operations at five new facilities, two in Brazil: São Paulo 4 and Hortolândia 5; as well as Mexico 1 and 2 and Chile 2.
In April 2021 Ascenty raised $925 million in credit and announced expansion plans. The company opened new data centers in Rio de Janeiro and Hortolândia in December 2021 totaling 5,000 sqm and 6MW.
Versions of this story appeared in our Spanish and Brazilian editions.
More in Construction & Site Selection