ASHRAE, the professional body for cooling engineers, has abandoned a controversial plan to include recommended levels of efficiency in a standard for data centers. 
The draft of the ASHRAE 90.4 Energy Standard for Data Centers, published in September 2015, but it was unpopular with the industry for suggesting that data centers should achieve specified levels of efficiency, measured by the power usage effectiveness (PUE) metric, depending where they are in the world. In response to criticism of the draft, ASHRAE (the American Society of Heating Refrigeration and Airconditioning Engineers has published a new draft where PUE has been removed.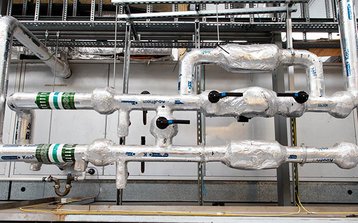 Compliance complication?
Ever since ASHRAE published its 90.1 standard for efficiency in buildings, it has been trying to produce a specific version for data centers, recognizing their specific requirements. Howeve, each attempt has been criticized for being too specific, either in terms of technology required or how efficiency is to be measured.
PUE, created by the Green Grid, is an attempt to measure how efficiently a data center delivers power to its IT load (leaving aside what the IT kit is doing). Low PUEs are good, and are easier to achieve in cool climates, so ASHRAE proposed a table in which cooler sites would be required to achieve a better figure.  
"You shouldn't use formal standards in a rapidly growing, fast-moving industry," said Don Beaty of DLB Associates, a past chair of ASHRAE Technical Committee 9.9 (TC9.9) for data center technology, when the idea was suggested in the first draft, which allowed two "compliance paths", one based on the mechanical load component (MLC), defined in the standard and calculated from the specification and/or performance of the climate control equipment in the facility, and the other based on PUE. 
While the ASHRAE documents are not in themselves mandatory standards, they are often referred to in specifications, and so have a huge influence on data center design. 
In the new draft, the PUE section is struck out, leaving just the MLC option. ASHRAE has invited comments on this draft, as on the previous one.