AST SpaceMobile, a company building a space-based cellular broadband network accessible directly by standard mobile phones, is to launch its next test satellite in September but has pushed back the launch of its first five constellation satellites, and amended their design.
The company's first five satellites will be launched six months later than previously planned, be smaller than the following 15 satellites, and will reuse more components from the test satellites than originally planned. As a result, the company hopes to be able to launch and monetize commercial operations earlier than planned.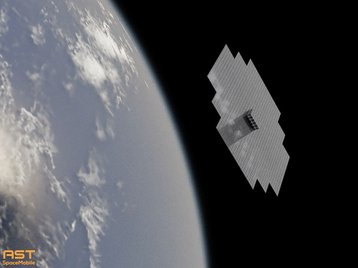 Founded in 2017 and previously known as AST & Science, the company was listed on the Nasdaq last year after a SPAC merger with New Providence Acquisition Corp. AST was planning a constellation of almost 170 satellites; the first 20 were originally due to enter operation by 2023 with another 90 deployed through to 2024. It seems to have revised its constellation plans down to 100 according to more recent press releases.
The first test satellite, Bluewalker 1, launched in 2019; Bluewalker 2 was canceled. Its latest test satellite, Bluewalker 3, is due to launch in September 2022 from Cape Canaveral, Florida.
During the company's earnings call this week, Abel Avellan, AST Chairman and CEO, said the first five Bluebird rockets will all launch from a single launcher – SpaceX's Falcon 9 – in late 2023, amounting to a six-month delay from previous announcements. Those first five satellites will be around half the size of phase 1's latter 15, and will use more components from the Bluewalker 3 than the later satellites. They will also be more reliant on Field Programmable Gate Arrays (FGPAs) than ASICs.
"The idea is to actually to start monetizing these initial satellites with a service that is not continuous but a service that allowed us to start monetizing the satellites earlier, rather than waiting for the complete block of satellites to be in place," said Avellan.
AST also said the capital expenditures required for the design, assembly and launch of its first 20 commercial satellites to be approximately $300 million to $340 million – equivalent to around $16 million per satellite, and up from $14m per machine. CFO Sean Wallace merely said this was "due to a number of factors...[including] inflation, supply chain disruptions, design changes, and increases in the cost of electronic components, assembly equipment, launch costs, salaries, and other aspects."
The company said the initial five satellites will now use existing components from the BlueWalker 3 tests satellite design, including certain integrated circuit components, navigation controls, and antennas.
"We benefit from this change in mix of satellites, as it will enable AST to construct and launch these satellites sooner, but this will also result in an increase in cost per satellites, due to the current higher cost of these first generation components," said Wallace.
During the quarter the company added three new operators, including a memorandum of understanding with Smartfren Telecom in Indonesia. The company has previously announced commercial agreements with Vodafone and AT&T, with MoUs signed with Telefonica, Indosat Ooredoo, Tigo, Telstra, and others, and has an MoU agreement with Orange.
The company also reached an agreement to sell a majority ownership of small satellite bus manufacturer NanoAvionika for €65 million ($66m). The company is expected to receive approximately $27 million in net proceeds at closing. Spun out of Vilnius University in Lithuania in 2014, AST acquired NanoAvionics in 2018.
For the quarter AST reported revenues of $7 million, up from $2 million in Q2 2021. Total operating expenses increased by $2.7 million to $35.4 million for the second quarter of 2022. Net loss was $8 million. CFO Wallace said the company had enough cash on hand – around $200 million – for the next 12 months, but would need to raise more capital before entering into Phase 1 commercial service with 20 satellites.
Last month AST signed a five-year 5G deal with Nokia. The telco OEM will provide AST equipment from its AirScale portfolio including AirScale base stations, NetAct solution for network management, and optimization and technical support services.
AST isn't the only company looking to provide connectivity directly to smartphone users. Satellite base-station company Lynk (formerly UbiquitiLink) recently deployed its Lynk Tower 1 satellite into space, its first spacecraft covered by an FCC license to operate a satellite direct-to-phone service. Lynk has now launched six satellites and offers technology that can connect its satellites directly to commercial smartphones without modification. Lynk Towers 2, 3, and 4 are under construction and will be launched later in 2022.
So far Lynk has signed contracts with operators on seven island nations in the Pacific and Caribbean, including Telikom Limited in Papua New Guinea, Aliv in the Bahamas, and bmobile in the Solomon Islands, as well as Mongolia's Unitel and Telecel Centrafrique in the Central African Republic.
In other satellite news, Eutelsat's Quantum satellite has entered commercial service this month. The satellite, launched into orbit in August 2021, has sold six of its eight beams, with the rest expected to be sold in the coming months.
ViaSat has signed a deal to provide in-flight connectivity on private jet operator Airshare's new Bombardier Challenger 350 deliveries and future Challenger 3500 deliveries. The first installation on an Airshare Challenger 350 was completed in July 2022.