AST SpaceMobile has announced the completion of a two-way satellite call to Rakuten Group via unmodified smartphones using the BlueWalker 3 (BW3) satellite.
The US direct-to-cell satellite firm has claimed the call to be a first of its kind.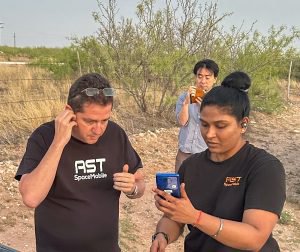 The call was made from Midland, Texas, to Rakuten in Japan over AT&T spectrum, while using a Samsung Galaxy S22 smartphone.
It was able to connect to AST SpaceMobile's BW3 satellite, which the company claims to be the largest-ever commercial communications array deployed in a low Earth orbit (LEO).
The company also stated that this test call was the first step towards providing space-based 2G, 3G, 4G LTE, and 5G cellular broadband globally.
AT&T and Rakuten weren't the only operators involved in the project, with Vodafone engineers also participating in the preparation and testing of the first voice calls with BW3.
"Achieving what many once considered impossible, we have reached the most significant milestone to date in our quest to deliver global cellular broadband from space. While we take a moment to celebrate this tremendous accomplishment, we remain focused on the path ahead and pivotal next steps that get us closer to our goal of transforming the way the world connects," said Abel Avellan, chairman and CEO of AST SpaceMobile.
In addition to test calls, AST SpaceMobile engineers also conducted initial compatibility tests on a number of smartphones and devices, which exchanged SIM and network information directly to BW3.
AST SpaceMobile has partnerships with a host of other mobile operators including Bell Canada, Orange, Telefonica, TIM, Saudi Telecom Company, Zain KSA, Etisalat, and more.
Founded in 2017, the company's first test satellite, Bluewalker 1 was launched in 2019; Bluewalker 2 was canceled. Its latest test satellite, Bluewalker 3, launched last year.