Atos has announced the latest 'exascale-class' generation of its BullSequana supercomputer.
The French IT firm this week unveiled the BullSequana XH3000, which the company said will provide up to six times increase in computing power compared to previous versions.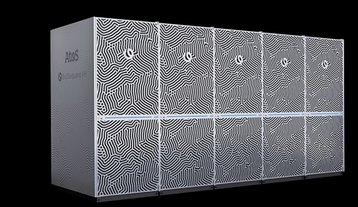 The new HPC system will be available in configurations from 1 petaflops to 1 exaflops for digital simulation and up to 10 ExaFlops for AI applications. The machines will be designed and manufactured in Europe at Atos' factory in Angers, France.
The system will support CPU and GPU processor and accelerator architectures from AMD, Intel, Nvidia, and eventually the European microprocessor from SiPearl. The new system is scheduled for Q4 2022.
The XH3000 will use Atos' Direct Liquid Cooling (DLC) solution, which it claims will provide more than 50 percent more cooling power than previous generations.
"We are extremely proud of our role as a leader in HPC and of our new BullSequana supercomputer, revealed today, which results from 15 years of R&D efforts and brings together Atos' proven expertise and experience in high-performance computing, AI, quantum, security and digital decarbonization," said Rodolphe Belmer, CEO of Atos. "It will no doubt enable, through the gateway of exascale, some of the key scientific and industrial innovation breakthroughs of the future."
"As the leading European HPC vendor, Atos is well-positioned to continue advancing research and innovation with its new supercomputer, and to bring exascale class systems to its customers," said Earl Joseph, CEO at HPC industry analyst group Hyperion Research. "With its new BullSequana XH3000 supercomputer, hybrid computing ecosystem integrating AI and quantum, and its strong roadmap for exascale, Atos demonstrates a clear, comprehensive vision of the future of scientific simulation, while taking into account the importance of decarbonization."
The news comes amid difficult times for Atos. The company has issued a number of profit warnings in the last year and recently announced a restructure. The company is reshaping to focus on three business lines; Tech Foundations, which 'bundles Atos' asset-intensive activities' and data center and hosting units; Digital, which will include cloud; and Big Data & Security (BDS), which will include 'high-growth, R&D-intensive business' including cybersecurity, HPC, and Edge.
New CEO Rodolphe Belmer said: "The new governance we announce today is designed as a key enabler of the Group's turnaround and represents a key step in the rebound of the Group. I am convinced that Atos has all assets at hand to get back on track, and first and foremost its highly dedicated and talented people around the world. The Group holds leading positions in cyber security, high-performance computing, cloud, decarbonization and digital transformation which are the growth engines of today and tomorrow."