Germany university Technische Universität Dresden (NHR@TU Dresden) has selected Atos to deliver its next supercomputer.
The University has tapped the French firm to supply a new BullSequana XH2000 HPC system to its Center for Information Services and High-Performance Computing (ZIH) in Saxony. The system is due to be inaugurated in 'fall 2022'.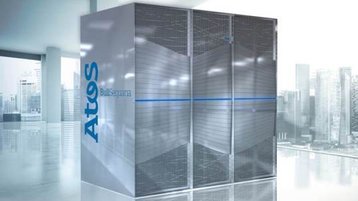 "We are pleased to continue to support TU Dresden with HPC expertise via our BullSequana XH2000 installation and to enable cutting-edge research. The new system is extremely energy efficient thanks to our patented and world leading warm water-cooling solution," says Dr. Martin Matzke, Senior Vice President Big Data & Security at Atos Central Europe.
The new installation will ncludes more than 600 nodes powered by the next-generation Intel Sapphire Rapids CPU architecture and totalmore than 60,000 CPU cores. It will also include include new storage components with 1 PiB capacity for the home file system and 21 PiB scratch filesystem. The unnamed system will use a hot water-cooling system will be used for cooling, which also includes the power supplies.
"The new HPC cluster is a further step for the important cross-sectional tasks of data science and digitization at TU Dresden, which, together with the foundation of the Center for Interdisciplinary Digital Sciences (CIDS), will both further strategically strengthen the location and take into account TU Dresden's NHR supply mission for the entire German scientific landscape," said Prof. Staudinger, Rector of TU Dresden.
The new system is mainly funded by the NHR budget of the ZIH and will be made available for use for research nationwide within the NHR network. The Physics of Life (PoL) Cluster of Excellence at TU Dresden is also co-funding to ensure dedicated computing power for its research.
"In addition to the innovative hot water cooling, which will lead to an encouraging increase in the energy efficiency of the system, the balanced architecture and the exceptionally powerful infrastructure for the fast input/output of data are to be highlighted, which sustainably advance important research fields of ours such as modeling, simulation, and data analytics," added Prof. Dr. Wolfgang E. Nagel, TU Dresden/ZIH.
Atos has previously delivered and installed the two stages of the Taurus system at ZIH in 2013 and 2015; the new system will replace Taurus. Last February NEC installed the 34 node AI-focused Alpha Centauri cluster consisting of 272 Nvidia A100 GPUs capable of 5.3 petaflops.
Built in 2015, the Lehmann data center at TU Dresden offers 5MW of capacity across 1,200 sqm (12,900sq ft).