The Australian Defence Department has launched a new supercomputer.
Acting Prime Minister and Minister for Defence Richard Marles last week launched the new Taingiwilta system at the Defence Science and Technology Group site at the Edinburgh Defence Precinct in Edinburgh, South Australia.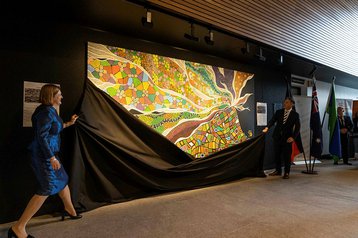 The defense department said the new system will enable its scientists to analyze large data sets and rapidly perform complex calculations to 'tackle some of Defence's most challenging scientific and engineering problems' in areas such as the design, development, and analysis of modern weapon systems and national security systems.
"The high performance computing capability not only provides Australia with a sovereign capability that allows us to pursue activities in our national interest, but it also gives us a strong foundation for even closer collaboration with partner nations," said Marles.
"Defence acknowledges the assistance provided by representatives of the US Department of Defense's High-Performance Computing Modernization Program who willingly shared their 30 years of knowledge and experience to support Australia's work to establish this world-class capability."
Taingiwilta, which means 'powerful' in the language of the Kaurna people, and is housed in a purpose-built secure facility called Mukarntu, meaning 'computer.'
Details around system specifications weren't shared, but according to Ex2, Marles said Taingiwilta ranks in the top 50 systems in the world, suggesting performance capabilities of at least 10 petaflops compared to the current Top500 list.
The facility's artwork was commissioned specifically and was created by three generations of the one Kaurna family and is called Ngangk Mukarta Warpu Yerta, which means "Women's intelligence of the earth."
"This is a game changer," said Chief Defence Scientist Professor Tanya Monro. "If we want to accelerate the timelines in which we deliver capability for the Australian Defence Force, we need to be able to take these complex platforms and put them inside the computer.
"So we can refine, develop, and essentially skip generations of testing and experimentation that would otherwise have taken years, and condense them down into weeks and days.