AWS has announced a number of new renewable energy projects, reinforcing its status as the largest corporate buyer of renewable energy in the world.
The company this week announced 18 new utility-scale wind and solar energy projects in the US, Finland, Germany, Italy, Spain, and the UK, representing 2GW of clean energy capacity.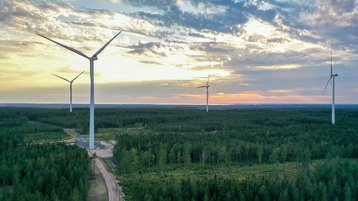 "We are moving quickly and deliberately to reduce our carbon emissions and address the climate crisis," said Kara Hurst, vice president of Worldwide Sustainability at Amazon. "Significant investments in renewable energy globally are an important step in delivering on The Climate Pledge, our commitment to reach net-zero carbon by 2040, 10 years ahead of the Paris Agreement. Renewable energy projects also bring new investment, green jobs, and advance the decarbonization of the electricity systems in communities around the world."
In the US, the company added its first solar projects in Arizona and Georgia, and additional projects in Ohio, Texas, and Virginia.
Amazon added 158MW through four wind projects in Finland. It added its third solar project in Italy, adding 40MW on top of the 66MW already procured. New solar projects in Spain together add more than 630MW to the grid, while it also added a new wind project in Northern Ireland.
Along with projects announced earlier this year, Amazon will add 5.6GW of renewable energy capacity in 2021. The company procured 4GW in 2020. The company now has 274 global renewable energy projects, including 105 utility-scale wind and solar projects and 169 solar rooftops on facilities and stores worldwide.
When all projects become fully operational the company will have 12GW and 33,700 gigawatt-hours (GWh) of generation capacity.
"Amazon is wasting no time demonstrating that the company is fully committed to a clean energy future," said Gregory Wetstone, President and CEO of the American Council on Renewable Energy.
"For the second year in a row, Amazon has set new records as it works toward fully powering its operations with renewable energy by 2025, five years ahead of schedule," said Miranda Ballentine, CEO of Clean Energy Buyers Association (CEBA). "Large-scale clean energy investments like these benefit us all and should be the new normal for industries of all shapes and sizes. They bring good-paying, green jobs to local communities, and support progress toward our community's goal of a 90 percent carbon-free US electricity system."