AWS has connected a satellite ground station to its cloud region in Singapore.
The company said that it was the 11th AWS Ground Station antenna location connected to the AWS Global Network.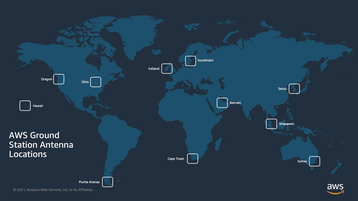 AWS Ground Station is a fully managed service that lets customers control satellite communications, process satellite data, and scale satellite operations.
"Singapore is a strategic location for AWS Ground Station customers, who depend on frequent contact with their satellites to gather valuable satellite data and insights in near-real time," said Jim Caggy, general manager, AWS Ground Station. "Governments, businesses, and universities depend on reliable, timely, affordable access to data from space to help them address some of the biggest challenges on Earth. AWS continues to expand the global AWS Ground Station network to help put the power of satellite data into the hands of more customers."
First launched in 2019, AWS has ground station antennae at its regions in the US (Oregon, Ohio, Hawaii), Middle East (Bahrain), Europe (Stockholm, Ireland), Asia Pacific (Sydney, Seoul, Singapore), Africa (Cape Town), and South America (Punta Arenas).
A rise in Low Earth Orbit satellites, combined with ever-increasing amounts of data created by the likes of earth observation satellites means many cloud players are looking at deploying ground stations at their facilities.
Microsoft recently revealed its first colocated satellite ground station at its Quincy data center in Washington, and SES said it had plans to place three more at Microsoft facilities.
Google will reportedly host SpaceX ground stations for its Starlink satellite constellation.
AWS launched its Singapore cloud region in 2010. The company added a third availability zone there in 2018.