Amazon Web Services (AWS) has signed a 601MW power purchase agreement (PPA) with Canadian alternative investment management company Brookfield. In return, AWS has become Brookfield's preferred cloud provider.
Brookfield Renewable, a subsidiary of Brookfield Asset Management and one of the world's largest publicly traded renewable power platforms, will provide 601.6MW of wind and solar energy capacity to power Amazon's operations in Europe, North America, and India. In total, these projects are expected to generate 1,370 gigawatt-hours (GWh).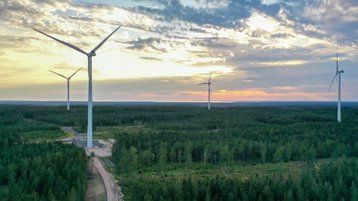 "Our partnership with Amazon is a tremendously exciting example of companies working together to reach net zero," said Ruth Kent, chief operating officer at Brookfield Renewable. "AWS is helping us modernize our operational systems, giving us the scalability, reliability, and innovation we need to deliver clean energy around the world. In return, Brookfield Renewable will provide renewable power to Amazon on three continents, which will help Amazon stay on path to power its operations with 100 percent renewable energy."
The committed PPAs will provide electricity to seven Amazon projects - three in the United States in Arkansas, Illinois, and Mississippi; three in Europe in Spain, Northern Ireland, and Italy; and one of Amazon's first projects in India.
"Together with Brookfield Asset Management, we are advancing the use of renewable energy around the globe," said Howard Gefen, general manager of Energy & Utilities at AWS. "Brookfield is tapping into the breadth and depth of AWS' proven global infrastructure, services, and partner community to better harness its data, become more flexible and scalable, and gain better insights into its businesses. In addition, working with Brookfield Renewable will keep Amazon on the path to powering our operations with 100 percent renewable energy while adding more clean energy to grids around the world."
The PPAs are part of a wider partnership between the companies, with Brookfield Asset Management this week selecting AWS as a preferred cloud provider.
Working with AWS Professional Services, AWS Managed Service Provider (MSP) BDO Lixar, and AWS Partner Databricks, Brookfield Asset Management consolidated 40 petabytes of data in a data lake on AWS to optimize facility operations, increase production output, and improve equipment performance.
Brookfield is also working with AWS and Blackline Safety to provide real-time employee safety monitoring at three hydroelectric dam sites in the US. Employees wear Blackline's G7 wearable safety devices, which rely on Amazon Kinesis service for high-speed streaming data ingestion of location and safety data into the cloud, and Amazon data warehouse service Redshift to detect if an employee is in danger or needs assistance, and triggering an alert for supervisors to send help if needed.