Property company Glendine Developments has ordered a 5G ready Edge data center from UK startup DataQube as part of a plan to turn two properties in a Basingstoke business park into an "Edge data center campus".
Earlier this year, DataQube announced a cabinet-style modular Edge container that can be built in more flexible shapes and sizes than the traditional shipping container dimensions. The company has promised to deliver a 200KW module holding 20 racks to the Viables Business Park, as part of a project to redevelop two buildings for co-working space, including research & development and recreation.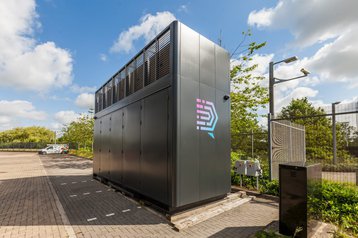 ... what is an Edge campus?
The concept of an "Edge data center campus" will need some explanation, combining as it does the extreme ends of the data center spectrum. Edge facilities are micro data centers located outside conventional data center space, close to users, while data center campuses hold multiple facilities for use by centralized hyperscale applications.
DataQube says it has been assigned the role of "team lead" in developing the two vacant properties to provide a co-working and research space it says is valued at £20 million ($28m).
The kit the company will deliver consists of a large multi-rack data center cabinet designed for a "person-free layout", meaning the equipment can be accessed without having to climb inside. It's made of lightweight material and can be ordered in different shape and configuration options, such as L and E shapes, so it can be installed in many different internal and external locations. The system allows a range of cooling options, including immersive cooling technology, which is often proposed for Edge locations, as it removes the need for air conditioning units and extends equipment life.
DataQube says the boxes will have a bigger IT load per square meter, and for up to 50 percent less CAPEX than existing container-based Edge data center systems, and intends to offer them to telcos and ISPs for deployment at base stations and cell towers.
"Implementing a fully operational Edge data center within a six-month timeframe, from 1KW to 1MW or more, doesn't just mark a company milestone, it's a game-changer for the data center industry," says David Keegan, CEO of DataQube Global. "Glendine are working to deadlines that would be unachievable for regular data center deployments due to planning/building permission requirements.
"DataQube's scalable design and person-free layout makes deployment possible within a six-month timeframe." 
The delivery is scheduled for Q3 2022.