India's Lumina CloudInfra has begun work on a data center in Navi Mumbai.
The company today announced it had broken ground on a new hyperscale data center campus in Maharashtra state.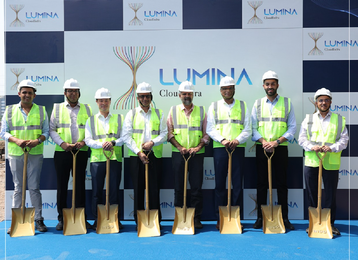 Blackstone announced Lumina CloudInfra as the investment firm's Asian data center platform last year, with planned developments totaling 600MW in India. Reported to have $25 billion at its disposal, at the time the company said it had two projects already in the pipeline in Mumbai and Chennai.
Local press now reports that Lumina, owned and managed by Blackstone's Real Estate and Tactical Opportunities funds, is investing more than $300 million in developing its first campus in Navi Mumbai's Airoli area.
Spanning 6.3 acres, the Airoli site will have a capacity of over 60MW across two phases. The first phase is reportedly set for a 2025 completion date.
Lumina is also reportedly considering a second data center in the Mahape area of Navi Mumbai.
By 2030, Blackstone plans to set up data centers in five Indian cities with a total capacity of 600MW. The company's website suggests it is also looking to build in Pune and Hyderabad as well as Chennai and Mumbai, but further details are currently unavailable.
Anil Reddy, global CEO of Lumina, this week told Reuters that the company is in discussions with Microsoft, Amazon, Google, and Oracle.
"We will be one of those who are capturing some of those dollars from there because we will have them as a customer," he said.
Around two-thirds of Blackstone's data center business in India will come from these companies, Reddy said, with the rest from industries like banking, healthcare, and the government.
Blackstone bought QTS Realty Trust in the US in 2021 for a $10 billion price tag, making it one of the biggest data center acquisitions ever. The company also runs data centers in Japan for cloud providers and owns cell tower player Phoenix Towers International. It has also invested in Chinese operator Vnet.
In 2021 the company bought a London data center occupied by Equinix and it has a number of joint ventures with COPT for data centers in Virginia.
More in Colocation & Wholesale