The New York state NFL team the Buffalo Bills will construct a brand new stadium in Erie, New York State.
The new stadium will be located in Orchard Park, across the street on Abbott Road from the current Highmark Stadium.
The proposal also includes plans to build an on-site 75,000 sq ft (6,968 sqm) auxiliary technology building to include areas for TV broadcasters and a production data center. Details surrounding the data center have not yet been released.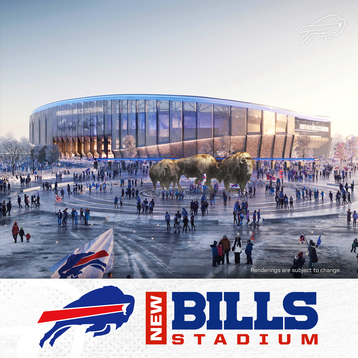 The construction project is estimated to cost around $1.4 billion, making it the third most expensive NFL stadium, and is being financed by the New York state with $600 million upfront and an additional $250 million over the thirty-year lease. The county will provide $280m upfront, and $120 million over the life of the 30-year lease to repair and maintain the stadium. The Bills will put $550 million towards the construction followed by $900,000 per year in rent.
Construction is expected to begin in mid-2023, and be completed in 2026. The stadium will be 1.35 million square feet with eight to nine levels and include between 60,000 and 63,000 seats with a standing room area and a party deck, with finishes, amenities, and concourses "comparable to (recently built) NFL stadiums."
The two most recently built NFL stadiums are SoFi Stadium in Hollywood, California, and Allegiant Stadium in Las Vegas, Nevada, the former of which is home to a 2.5MW on-prem data center, and the latter has a Distributed Antenna System (DAS) with over 1,700 Wi-Fi access points providing high-speed Internet, 227 miles of fiber and copper connectivity and 5G coverage throughout.
While exact details of the Bills stadium data center have not yet been revealed, the memorandum of understanding (MoU) discussed its use in part, mentioning the importance of the site having 'technology and communication systems,' as well as including the 'necessary electronic surveillance and monitoring devices to support a security command center,' all of which will need data processing and storing.
The MoU also discussed the possibility of a heat-reuse system within the facility, where excess waste heat could be incorporated into the 'exposed structure above the concourse areas to help provide improved fan experience.' However, without knowing the size of the data center or the hardware used it is very difficult to predict how much of this heat it would be responsible for.
The Bills have chosen Gilbane Turner in association with 34 Group to do the construction management, and have hired project management firm, Legends Project Development, along with Populous as the designer.