Bulk Infrastructure AS is issuing between NOK400m ($48.9m) and NOK500m ($61m) in share capital, to which the company, joined by investment firm Gavran, have committed a minimum of NOK400m. 
Bulk Infrastructure AS is a Norwegian holding company specialized in logistics and data center real estate development as well as long-haul fiber operation and management. Its digital services subsidiary, Digibulk, is developing  the Oslo Internet Exchange (OS-IX) data center and also the Kristiansand campus known as N01. 
Bulking up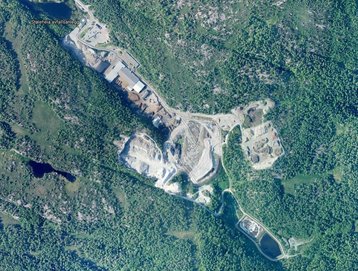 When it 'broke ground' on the site in 2014, Bulk's four square kilometer campus near Kristiansand, in Norway's southwestern region, connected 96 fiber pairs and eight network providers. The property's power comes from local hydroelectric sources and, if needed, can increase its maximum capacity to 2GW by connecting to an adjacent 3.6GW power grid hub. The site also boasts its own recycling plant. However, to date, no data centers have been built on the campus. 
Earlier this year, Bulk's network subsidiary, OptiBulk, along with a consortium of companies including Facebook, Google, and Aqua Comms, commissioned a transatlantic cable network called Havfrue.
The system will connect New Jersey in the US with Ireland and Denmark, with diverse backhauls to London in the UK, as well as extending the CeltixConnect-2 connecting Dublin to Manchester and the North Sea Connect linking Stellium's data center in Newcastle in the UK to Esbjerg in Denmark. Bulk is also planning to connect Havfrue to the Kristiansand campus.
In 2016, according to Bulk's 2017 financial report, the company also took a 100 percent stake in Data Center Technologies AS, for NOK23.3m ($2.86m). 
That oil money 
CEO  Peder Naerboe said the new shares would give the company "credibility in the international market" and allow it "to secure opportunities like the Havfrue," Bulk will retain a majority stake in the company, though it failed to specify how much Gavran - controlled by multibillionaire John Frederiksen and his family - agreed to invest.
John Fredriksen was Norway's richest man before he gave up his citizenship to become Cypriot, and by extension the Mediterranean Island's most prosperous individual. He has a net worth of $10.8bn, and holds major stakes in the shipping, oil, logistics and food manufacturing industries.
The son of a welder, he began his career as a local shipping broker courier, eventually buying entire fleets of tankers of his own – including the single hull Sea Empress, which, in 1996 spilled 50,000 tons of oil into the sea off the coast of Wales.
Fredriksen has stakes in the fish farming company and world's biggest producer of Atlantic salmon, Marine Harvest, and his investment companies, Hemen Holding and Geveran Trading Co. control the publically traded shipping companies Frontline of Sweden and Golar.
Amongst other things, he now owns the world's largest oil tanker fleet and is the founder of now bankruptcy protected deep water rigs operator, Seadrill.
Norway has long tried to catch up on its Nordic counterparts to attract data center projects, and its efforts have begun to pay off: yesterday, Microsoft announced that it would be building two cloud regions - meaning four data centers or more - in Stavanger and Oslo.
Other projects with mixed success in Norway include Kolos, the world's biggest data center,' proposal, which has been company was acquired by cryptocurrency miners, or the Lefdal Mine Datacenter whose extensive underground caverns constitute the country's largest data center in terms of raw dimensions..