ByteDC has launched its Cambodia data center.
An inauguration ceremony was held on May 11 for the Phnom Penh, Cambodia, data center.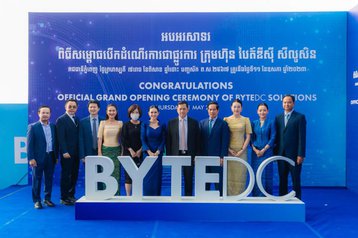 The data center has up to 3MW of IT capacity and targets a PUE of 1.8 or below across its total built-up floor space of 81,040 sq ft. The data center has been awarded Tier III Uptime Design Certification. According to ByteDC, it is the first in the nation to achieve that status.
The inauguration was presided over by the Cambodian lieutenant general and son of current Cambodian Prime Minister Hun Sen, Dr. Hun Manet. Hun highlighted the importance of data solutions in the current "rapidly evolving technological landscape."
This was reiterated by Bob Lim, managing director of ByteDC Solutions, who added that big data, cloud computing, and internet connectivity have brought 'significant changes' across various industries.
The data center will be part of the ongoing project 'Global Tech Exchange,' a smart city development in Phnom Penh City Center (PPCC). G-Tech will consist of an office tower dedicated to the financial industry, another to the IT/Media industry, a convention center, Hilton Hotel, and the urban data center.
According to Data Center Map, the Cambodian capital city Phnom Penh currently hosts five colocation data centers, not including the ByteDC facility.
In 2018, a consortium consisting of Te Aikhong Enterprise, Kepstar Data Center, and Fourititude Asia planned Cambodia's 'largest data center,' located nearby Phnom Penh. The project was originally supposed to be completed within 18 months of the announcement, but the companies have remained mostly silent on the topic since, and no size was ever shared.
Earlier this month, a report was published about the construction project, and Kepstar's website shows two data center projects which the company is planning: a 110,000 sq ft 6.5MW data center, and a 50,000 sq ft 3.5MW data center.
In February 2022, a sub-decree was signed ordering Cambodia to power up a new National Internet Gateway, which would see all web traffic funneled through a state-controlled entry point. According to a report by Security Week, ISPs will be required to block websites that adversely affect "national revenue, safety, social order, morality, culture, traditions, and customs."
More in The Data Center Construction Channel