CapitaLand has acquired a plot of land in Chennai, India, on which it is planning a 55MW data center.
This week CapitaLand India Trust Management Pte. Ltd., as trustee-manager of CapitaLand India Trust (CLINT, formerly known as Ascendas India Trust), announced that through subsidiary Minerva Veritas Data Centre Private Limited CLINT will invest in and develop a greenfield data center project located on a 4.01-acre freehold site in the Ambattur area of Chennai.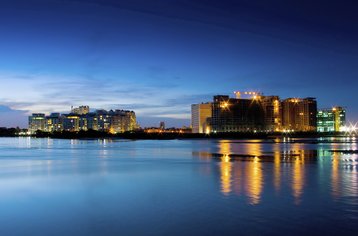 The company aims to build out the site in multiple phases; when completed, it will have a total capacity of 55MW and space for 4,900 racks across 420,000 sq ft and seven stories. The first phase is set to go live by the end of 2025. CLINT said it would be targeting customers such as global technology companies and cloud service providers, as well as large domestic enterprise clients.
The acquisition, valued at Rs 730 million (approximately $9.2 million), will be financed through a combination of debt and internal resources. The deal is expected to be completed by December 2022 and will mark CLINT's second land acquisition for greenfield data center development in India. The company now has projects in Navi Mumbai, Hyderabad, Chennai, and Bangalore.
The land is being acquired from Godrej Agrovet Limited and Godrej & Boyce Manufacturing Company Limited. Part of the Godrej Group conglomerate, Godrej & Boyce is an engineering company operating in industries such as aerospace, construction, tooling, furniture, and more.
"With this latest acquisition, CLINT will have a presence in India's key data center markets – Navi Mumbai, Hyderabad, and Chennai, and we are also planning to develop a fourth data center in Bangalore," said Sanjeev Dasgupta, CEO of CLINT. "This will allow us to expand in the resilient and highly scalable data center asset class, diversify our data center portfolio geographically, and enable us to better serve our customers across the country. India's data consumption and demand for information technology solutions are fast expanding but the country has one of the world's lowest data center densities."
CapitaLand signed a Memorandum of Understanding (MoU) with the Tamil Nadu government to build data centers in the Ambattur area of Chennai in June 2021.
Patrick Boocock, CEO, Private Equity Alternative Assets, CapitaLand Investment (CLI), said: "CLI has been seeing rising investor interest in the digital infrastructure sector and we are actively working on a pipeline of data center deals across Asia. CapitaLand's strong core competencies in data center design, development, and operations will enable us to seize opportunities in the country as we build our new economy portfolio globally."
Surajit Chatterjee, Managing Director, Data Centre, India, CLI, added: "The acquisition site is in a prime data center location in Ambattur, close to sea cable landing stations, reliable power supply and has a well-developed infrastructure."
Last year CapitaLand-owned Ascendas India Trust announced plans to build its first data center campus in India. The campus in Airoli, Navi Mumbai, will comprise two buildings; the first building will comprise 325,000 sq ft and is scheduled to be ready by Q2 2024. The 6.6-acre greenfield site will be developed in phases up to 575,000 sq ft (53,400 sqm) and 90MW when fully built up.
Chatterjee previously told W.Media that the company is planning to develop data centers in at least four other markets across India.
"We are looking to set up data centers in Mumbai, Hyderabad, Chennai, Bengaluru, and Noida," he said. Earlier this month CapitaLand signed an MoU with the Telangana government for a 36MW data center in Hyderabad.