Amsterdam will be the first Dutch city to install a data center capable of district heating.
The data center currently being built out in the port area of Amsterdam by the Caransa Group, a real estate investment trust (REIT) that specializes in commercial properties. The new data center will be Caransa's second data center.
According to Caransa, the data center will be a 100,000 sq m (1,076,000 sq ft) facility on land purchased back in 2015 in the Western Docklands of Amsterdam. It will consist of three 80m tall towers and built next to the Telegraaf Media Group head office.
Getting heat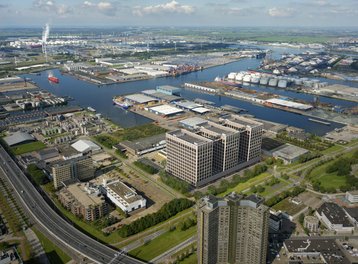 In July, the city of Amsterdam allowed data center building to resume, after two of the city's local administrations, imposed a one-year moratorium because they felt that data centers, with their demands on power and land, were out of control. Data center developments are now allowed to continue as long as they meet a budget of power and floor space.
Data centers sometimes offer waste heat for use by nearby businesses and homes, but this is more developed in Nordic countries, where district heating systems that can use that heat are more widespread. Waste heat from the Amsterdam facility will serve the district heating network of Westpoort Warmte, a joint venture between Nuon, a Vattenfall company, and the Municipality of Amsterdam.
Vattenfall is a Swedish company that is involved in district heating networks across Europe. In Holland, it works with Afval Energie Bedrijf (AEB), a waste energy company, and uses its heat to redistribute to the Noord and Nieuw-West boroughs in Amsterdam.
District heating has been mulled over for some time in Amsterdam. In September, CyrusOne announced it was partnering with the Municipality of Haarlem and business park PolanenPark to research capturing waste heat at its Amsterdam I data center.
Back in 2018, the local government in Amsterdam said it was hoping to use excess heat from data centers aiding the city's project to eliminate gas-fired central heating by 2050.
Back then, reports suggested Equinix was going to divert heat to several buildings at the University of Amsterdam. Equinix also wanted to deliver 100 percent of its residual heat to the district heating network, supplying around 70,000 buildings.
A portion of Amsterdam's homes receives their warmth via excess heat from power stations and waste companies. Back in 2019, Swedish power company Vattenfall and AEB announced it would invest €400m ($474m) over the next three years into growing out their district heating network.