CenturyLink has joined the US Department of Energy's Better Buildings Challenge, a scheme aimed at improving energy efficiency and reducing carbon emissions in both public and private organizations.
"This initiative aligns with CenturyLink's ongoing efforts to continually improve energy efficiency across our entire data center portfolio. We're fully committed to running highly efficient, well-managed data centers that meet and exceed a myriad of industry standards," said David Meredith, senior vice president, global data centers at CenturyLink.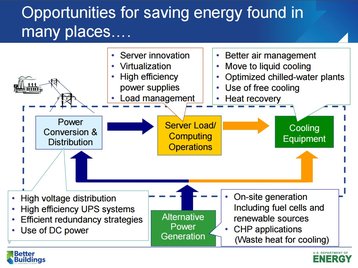 Challenge accepted
The company's goal is to reduce non-IT energy consumption across its US-based data centers by 25 percent by 2023. CenturyLink has highlighted its environmental successes so far, including opening a Washington data center that is partially powered by hydroelectric generators, deploying Bloom fuel cell technology, pursuing Energy Star certifications for 20 American data centers, as well as the Uptime Institute M&O Stamp of Approval.
The company also won a "coveted Energy Efficiency Improver's award" in April from DataCenterDynamics for reducing power consumption in its data center in Columbus.
To become a member of the Better Buildings Challenge Data Center Partnership, companies have to agree to improve the energy efficiency of their building portfolio focusing on data centers by at least 20 percent within 10 years. They must also commit to sharing progress and implementation, and showcase at least one project. In return, the DoE provides technical expertise, support and collaboration.
Existing Data Center Partnership members include Digital Realty and Schneider Electric, which have agreed to reduce energy intensity by 20 percent and 25 percent respectively. The DoE also has a Data Center Accelerator program, where companies only have to improve the energy efficiency of a single data center by at least 25 percent within five years.
Improving data center efficiency is a key focus for the Better Buildings Challenge, which has saved $1.3 billion and 160 trillion BTUs of energy across hundreds of businesses since its launch in 2011.
"Thanks to a dedicated drive to actively create and share the best energy efficiency solutions, Better Buildings partners have dramatically cut their energy waste and saved more than a billion dollars since the Better Buildings initiative was launched five years ago. As the initiative continues to grow, we are moving the nation forward by reducing energy costs and carbon emissions through energy efficiency," said US Energy Secretary Ernest Moniz.