Chiago residents have complained of constant fan noise from a Digital Realty data center in the Printer's Row downtown area.
The data center, in an eight-story building on 600 South Federal Street, has 4MW of generator capacity and access to up to 10MW from the utility. Residents in adjacent condo blocks say the constant noise from rooftop HVAC fans is keeping them awake and causing a constant nuisance.
In 2019, the levels of noise were reportedly found to be higher than permitted by law, and Digital Realty was fined this year for the noise of the building's ground-floor diesel generators, according to ABC News.
The company faces a city noise pollution hearing on August 26.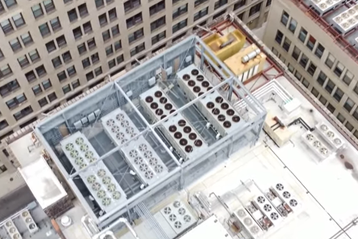 "Opening the window is a distant dream"
"There is so much noise I can't sleep at night or even focus in my daily life. It's like a mosquito is in your ear all the time," said Michael Gulik, who owns a condo in a building that overlooks the Digital Realty rooftop fans.
Gulik has been leading the campaign against the noise since 2019, and has started a Facebook page, and a Change.org petition against the fans, as well as sharing YouTube videos demonstrating the noise. During that time, the number of fans on the rooftop has increased as the capacity of the data center has grown. Gulik has installed $1500 worth of plexiglass over his windows and wears earphones, to no avail.
Acoustic surveys commissioned by the condo association and Digital Realty in 2020 found the noise levels exceeded those allowed by law, according to ABC News. City ordinances require noise levels to be lower than 55dB; last year's survey, carried out by Aercoustic, suggested that noise levels at the street were around 43dB, but those in higher floors around the building were higher than 70dB, according to an Aercoustic presentation shared by Gulik.
Gulik also says that specification sheets for the Trane fan units on the roof of the facility show they are not designed for use in residential areas.
Since last year, Digital Realty has installed a 15-foot high sound barrier wall around the rooftop fans, which is visible in the CBS news picture. Last year's survey appears to predict what Gulik claims, and what common sense might suggest - that this would have minimal impact on sound levels in apartments overlooking the building.
Residents including Gulik and Karen Zhoo have made numerous noise complaint calls to the City's Department of Health, which measured sound levels, and found that the facility's ground level generator noise exceeds the city's ordinance and fined Digital Realty $300, according to ABC.
"They are a big company and I think they have the money to keep doing this as long as they just keep getting fined, they can just pay that off," Zhou told ABC News.
Digital Realty sent a statement to ABC saying the data center has been in operation for 20 years, the company has "undertaken numerous initiatives to ensure a high quality of living for our residential neighbors." and looks "forward to continuing to work with our neighbors and city officials to positively impact the community around us."
While ABC mentions complaints about the site's diesel gensets, DCD understands these are only used in emergencies, and that the test schedule is shared with local residents.
We also understand that the roof-top coolers only operate when temperatures inside the datacenters trigger them and don't run 24x7, unless conditions demand that.
Responding to our request, Digital Realty has sent DCD the same statement it sent to ABC:
"Digital Realty always strives to partner with the local communities we serve. Our facility at 600 South Federal has operated as a data center for over 20 years, and as the surrounding neighborhood has evolved from commercial use to more of a residential character over the past several years, we have undertaken numerous initiatives to ensure a high quality of living for our residential neighbors.
"We have engaged with neighboring residents, city officials and sound consultants to implement measures to help alleviate concerns, while also respecting the city's landmark preservation requirements and the parameters of our historic building.
"In consultation with the city, we have conducted extensive sound studies and recently installed a 15-foot high sound wall, built to adhere to the requirements of the landmark department while also providing sound improvement for neighboring residents.
"We look forward to continuing to work with our neighbors and city officials to positively impact the community around us."