Facebook has announced that it has joined a venture to build the largest submarine cable by capacity around Africa.
The 2Africa project is part of a joint enterprise by China Mobile International, Facebook, MTN GlobalConnect, Orange, stc, Telecom Egypt, Vodafone, and the West Indian Ocean Cable Company (WIOCC).
2Africa is expected to be one of the largest submarine cables in the world, linking up both West and East Africa, and will connect around 23 countries, starting with the UK and ending in Spain.
In the countries where the 2Africa lands, service providers will obtain capacity in carrier-neutral data centers and have access to cable landing stations.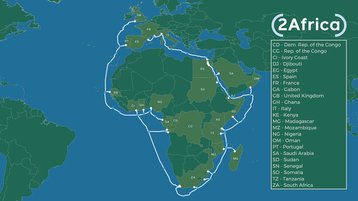 The project will also establish a new crossing to link the Red Sea and the Mediterranean. This includes a terrestrial cable between the Suez Canal, Ras Ghareb to Port Said, and a new submarine cable between Ras Ghareb and the Suez.
Alcatel Submarine Network will build the cable, which is expected to go live in 2023/4.
It's a big one!
The 37,000km-long 2Africa cable will feature around 21 landing points in 16 African countries and will carry three times the total network capacity of all the submarine cables currently serving the continent.
"When completed, this new route will deliver much-needed Internet capacity, redundancy, and reliability across Africa; supplement a rapidly increasing demand for capacity in the Middle East; and support further growth of 4G, 5G, and broadband access for hundreds of millions of people," Facebook said in a statement.
"Like all of our investments, 2Africa is being completed as part of our efforts toward an open and inclusive Internet ecosystem, which is a vital part of the continent's digital economic growth.
"In the countries where the 2Africa cable lands, service providers will obtain capacity in carrier-neutral data centers and open-access cable landing stations on a fair and equitable basis."
Jessica Gu, director and CTO of China Mobile International added: "The launch of 2Africa enables us to offer our customers seamless connection between Africa and Europe, together with our SEA-ME-WE 5 and AAE-1 subsea cable resources to further extend to Asia, which is an important milestone of our global development strategy.
"The utmost capacity and faster transmission allows us to satisfy the needs of African nations today and in the future, reflecting our firm commitment to building a global digital life."