China Mobile International Limited (CMI) has broken ground on a new data center in Hong Kong.
The company is building a new facility on a 1 million square foot site in the Fo Tan area of Sha Tin, New Territories, which it said will be completed in 2025. The multi-story data center will span 103,660 sqm (1.1 million sq ft) and accommodate over 9,000 server cabinets.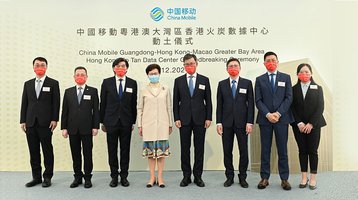 "China Mobile places great emphasis on the development and future roadmap of Hong Kong," said Dr. LI Feng, Chairman of China Mobile International and China Mobile Hong Kong. "We are committed to enhancing Hong Kong's status as an international information hub and promoting the integration of 5G into Hong Kong's diverse industries."
Following the opening of the China Mobile Global Network Center in Tseung Kwan O, Hong Kong in 2014, the new Fo Tan Data Center will be the second self-owned data center built by CMI in Hong Kong. The company said the new facility will have an average power usage effectiveness (PUE) rating of less than 1.3 and an 'extended life expectancy.'
"Data centers are an important communication infrastructure for the development of digital economy and smart cities. The large area of the industrial site signifies the active investment and great confidence of the communications industry, especially from China Mobile, in the development of its Hong Kong's data center business," said Carrie Lam, chief executive of the Hong Kong Special Administrative Region (HKSAR).
More in Construction & Site Selection