Santa Clara's Planning Commission delayed a decision on whether to approve permission for a new CoreSite data center in Santa Clara, California and has instead passed the decision onto the city council.
CoreSite has applied to develop a 48MW, 250,000 square foot (23,200 sqm) four-story data center – known as SV9 – along with a substation on the site at 2905 Stender Way, close to the company's existing SV3, SV4, SV5, SV6, SV7, and SV8 data centers.
CoreSite completed Phase 3 development of its SV8 facility last year. The company bought the land for its SV9 site in 2019.
Register now for our upcoming virtual conference on data construction, DCD>Scale 26–27 May 2021
Santa Clara Planning Commission turns sour on data centers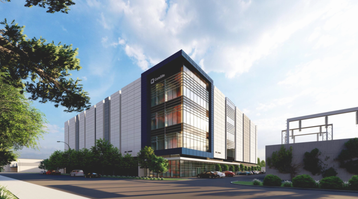 A planning meeting on April 14 was due to decide whether to approve a Mitigated Negative Declaration on the project and approve a rezoning request and allow the development of the project. However, no decision was reached and the commission instead voted to refer the applications to the City Council along with concerns around the city's long-term policy driving data centers and noise concerns and generators' diesel emissions.
The commission was heavily focused on the number of data centers in the area, and raised concerns around housing and noise.
"Currently, we have around 54 [data centers in the City]," said Commissioner Priya Cherukuru. "These are dead places from an urban planning perspective. When a power outage happens…can you imagine all of those diesel generators turning themselves on? Do you understand the water consumption of all of these 54 sites that it is impacting the City's water table?"
"I am concerned that we're turning our city into a data center. That it's becoming nothing but data centers for a big chunk of our industrial space…it's less about the pollution and more about the way the city is evolving that concerns me," said Commission Chair Lance Saleme. "We're not inspiring business. We're not inspiring employment and growth in a large chunk of our community. We're not inspiring things that make a healthy community. We're becoming a big battery and that's something that I worry about going forward."
In January the planning council adopted a mitigated negative declaration (MND) for a Prime Data Center project on 1111 Comstock Street and approved the project. A group called the Santa Clara Citizens for Sensible Industry appealed the MND, saying it failed to look at the four-story, 121,170 sq ft (11,200 sqm) data center's potential impacts on air quality, greenhouse gas emissions, and public health. The group asked for an Environmental Impact Report on the project.