Cloud service provider Civo is partnering with Heata to provide hot water to UK homes via heat from on-site servers connected to domestic heating systems.
The companies recently announced plans to launch a new pilot scheme that will see Civo customers being given the option to trial running cloud workloads on the Heata network.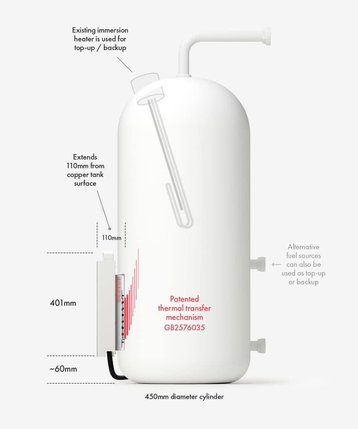 The Heata compute network re-uses the waste heat generated from processing compute workloads to heat water in homes across the UK, and the companies said the agreement will allow Civo customers to help provide for those in fuel poverty with free hot water.
The Heata network is made up of 36cm by 28cm compute servers installed on domestic hot water cylinders in people's homes around the UK. Companies pay to run and process their offline batch cloud compute workloads on the hardware, with waste heat from processing used to heat the water in the cylinder.
The companies say the system works alongside existing heating systems, which will kick in to provide hot water if the Heata unit stops working. The cylinders have been tested in collaboration with British Gas, and each unit reportedly saves 1 tonne of carbon per year.
Mark Boost, CEO of Civo, said: "Sustainability is something that's always been front of mind at Civo, and working with Heata to put the inefficiencies of data centers to good use has been the perfect next step for our sustainability mission. Investing in these types of solutions that not only cut carbon emissions but give back to the community, and help those in need, is the future of cloud computing. Heata's Edge network also offers a window into the future of IT infrastructure, placing processing as close as possible to user need, supporting next-generation applications that rely on low-latency connectivity."
Chris Jordan, co-founder and CTO of Heata, added: "Working with partners like Civo is critical as we look to extend our network, building trust and inspiring more organizations to run their compute workloads in a more sustainable way. At a time of soaring energy prices, I am particularly committed to being the bridge between the world of tech and areas like social housing where the need for solutions to the deepening cost of living crisis is being felt most acutely."
Heata offers general compute and rendering services. The units will reportedly use their own Internet connection; either their own dedicated fiber line or connection via 4G/5G. The company is currently running a trial alongside Innovate UK to find homes in which to install the compute hardware.
Founded in 2018 and backed by THG, Civo offers cloud compute, Kubernetes, load balancing, and a hyperconverged infrastructure (HCI) solution.
While a small niche, there is consistent interest in 'digital boiler' concepts that make use of compute resources to heat domestic homes. French company Qarnot is probably the most well-known of these. E-radiator business Nerdalize declared bankruptcy in 2019. Germany's Cloud&Heat generally focuses on larger-scale deployments, seeking to heat commercial buildings or apartment blocks.