Colt Data Centre Services (Colt DCS) has broken ground on a new data center campus in London.
The company this week announced it has commenced construction of its London 4 campus with a ground-breaking ceremony.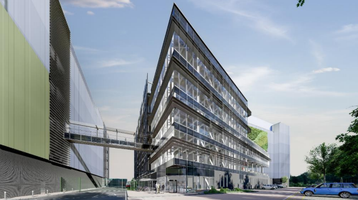 Located in Hayes, the site will feature two buildings totaling 57MW. The buildings will be five stories tall and contain a total of 18 data halls across 30,000 sqm (322,900 sq ft). It will be the company's largest site in the UK.
As reported by DCD last year, the campus is the site of the former Optimum Data Centre facility on the Springfield Road Industrial Area, as well as some neighboring industrial buildings.
Previous reports suggested work on the first building was due to start late last year for a 2023 completion date; the second in 2024 for a 2025 completion date. The company is reportedly investing 'more than £100 million' ($120.5m) into the project.
Niclas Sanfridsson, CEO at Colt DCS, said: "We are extremely excited to announce the ground-breaking of our newest data center in London. We worked closely with the local community and stakeholders through the planning process to intricately shape all aspects of this development, to outline the economic benefits it will bring, and to explain the critical role that data centers play in all of our daily lives and most importantly what opportunities this brings for the local communities."
The site was previously home to a 10MW, two-story data center with a long history. It was built as a warehouse in the late 1980s and converted into a data center in 2000 known as the Digiplex Megaplex Centre. The company – unrelated to the DigiPlex acquired by Stack Infrastructure recently – went bust in the dot-com crash of 2001.
The data center was then leased to Deutsche Bank, until colo firm Sentrum took over operations. That company was then taken over by Digital Realty in 2012, for around £715.9 million (then equivalent to $1.1bn). However, Digital Realty did not take over the Megaplex facility, with a new Sentrum entity taking over operations at the site and rebranding as Optimum Data Centres.
Sentrum/Optimum went into liquidation around 2015, and the data center was put up for sale in 2018. A new firm, Trinity DC, took over the data center in 2020. According to Companies House, Optimum Data Centers liquidated in 2020, with Trinity following suit in 2021. The site seemingly came to Colt around 2021; the company filed for permission to begin demolition work in 2021 and filed for a new data center campus last year.
Founded in 1992 and originally known as City Of London Telecom, Colt was acquired by Fidelity Investments in August 2015. The company currently operates two other sites in London: the London West facility offers 3,700 sqm (29,825 sq ft) and 15MW; while London North offers 12,500 sqm (134,550 sq ft).
The new data centers will reportedly have a wall-mounted solar panel array, which will be incorporated into building two, with a collector area of 204 sqm (2,195 sq ft). Bio Solar Panels will be installed on the roofs of both buildings to provide a further 120 sqm (1,291 sq ft) of solar panel coverage.
In addition, Colt said there is further land on the site to develop a third 30MW data center in the future.