The US Congress has rejected the Army's request for $400 million to buy up to 6,900 Microsoft HoloLens combat goggles.
The request was part of a wider planned $21.9 billion for up to 121,000 devices, spares, and support services. As part of that, the HoloLens headsets would be tied to Microsoft's Azure cloud and Edge services.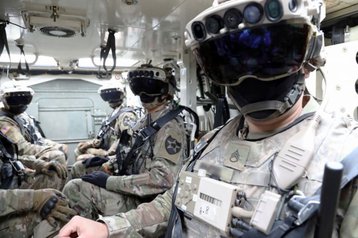 But Congress pointed to issues raised during testing, including "mission-affecting physical impairments" such as headaches, eyestrain, and nausea.
More than 80 percent of soldiers reported discomfort after less than three hours of using HoloLens, and it also suffered too many failures. Around 1,000 soldiers have provided feedback based on 100,000 hours of testing with previous versions.
Following the negative reaction, the Department of Defense's Office of the Inspector General (OIG) warned that "procuring IVAS without attaining user acceptance could result in wasting up to $21.88 billion in taxpayer funds to field a system that soldiers may not want to use or use as intended."
Congress instead approved $40 million to develop an upgraded model that could address some of the issues. Version 1.2 is set to have "a new form factor," including "a lower profile heads-up display with distributed counterweight for improved user interface and comfort." The US Army has separately awarded Microsoft $125 million for the upgrades.
Whether Microsoft can fix the issues will be fundamental to the continued progress of the Integrated Visual Augmentation Systems (IVAS) program, which has already been beset by delays.
More than 100 HoloLens employees have left over the last two years, the Wall Street Journal found in January. The company is believed to have canceled several products and reduced R&D spend. It is not clear if it is still working on a new consumer HoloLens product.