Contractor M.A. Mortenson shut down work on a Meta/Facebook data center after discovering racist graffiti at the Eagle Mountain, Utah, site.
The incident was the second at the construction site in just over a week, with Mortenson imposing a site-wide stand down both times. The graffiti, found at the construction toilets, said "Kill a n***** day 11/29."
Mortenson said that it will use the time to put additional training, safety, and security enhancements in place, and train workers on its anti-harassment policy.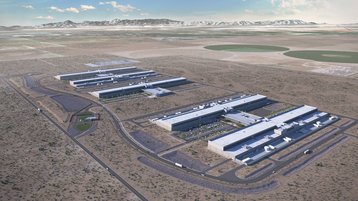 "These measures include but are not limited to respectful workforce training for everyone on the project, additional security cameras, investigative assistance from external resources, access monitoring throughout the site, a heightened security presence and relocation of portable toilets into controlled areas," the company said in a statement, first reported by Construction Dive.
"Mortenson takes this matter very seriously and we are continuing to work with local authorities to identify the individual(s) responsible and prosecute them to the full extent of the law."
Meta, the new name for Facebook, added: "We are really focused on making sure it is clear that this behavior is not tolerated and implementing additional security and training to ensure the safety and well-being of people on site."
It is not known why the graffiti referenced a particular day, with the sheriff's office promising to work with Mortenson and Facebook as the day approaches. Both companies are offering a $50,000 reward for information on the perpetrator.
Last year, contractor Turner Construction shut down two Facebook data center projects in Ohio and Iowa due to racist graffiti - and even a noose - were found on site. During the same period, a racist song was played over the radio at a nearby Microsoft data center
The US Equal Employment Opportunity Commission (EEOC) announced last month it was suing the Whiting-Turner Contracting Company, accusing it of racism towards black employees while working on a Google data center in Tennessee.