Data center company Corscale will use ZincFive nickel-zinc batteries at its planned Gainesville Crossing Data Campus in Northern Virginia.
Corscale is the recently-launched data center platform of real estate firm Patrinely Group and its capital partner, USAA Real Estate.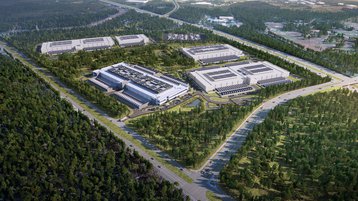 Last December, the company was revealed to be behind the Gainesville project, which is expected to begin with a 72MW two-story building this summer. The site, Corscale's first, hopes to grow to 300MW.
The data centers will deploy ZincFive nickel-zinc (NiZn) batteries for its uninterruptible power systems (UPS) instead of traditional valve-regulated lead-acid batteries or lithium-ion technology.
The batteries will be housed in ZincFive's BC Series UPS battery cabinets.
"For Corscale, circularity and sustainability are core to our development philosophy," said Nic Bustamante, SVP of data center development at Corscale.
"ZincFive's nickel-zinc battery energy storage solution provides us with a better form factor, minimizes our maintenance schedule, allows us to deploy pre-commissioned capacity faster, offers a lower total cost of ownership, eliminates thermal runway concerns, and is fully recyclable – something VRLA and lithium-ion cannot match."
He added: "When you look at the detrimental impact on the environment that lead, lithium, and cobalt pose end of life, you realize that nickel-zinc recyclability provides long-term benefits beyond the data center."
Earlier this year, Wyoming Hyperscale White Box said that it planned to deploy the ZincFive UPS system at its first data center deployment.
ZincFive launched its MegaWatt scale battery cabinets in 2020, and the systems have been in long-term tests at QTS.