Crédit Agricole is using immersion cooling systems from Asperitas in its Mainvilliers data center near Chartres in France.
The cooling tanks were tested in a pilot project in 2018, and are expected to reduce energy costs and environmental impact at the facility, and enable it to support a higher energy density for new applications. The bank now plans to install multiple modules in two data centers.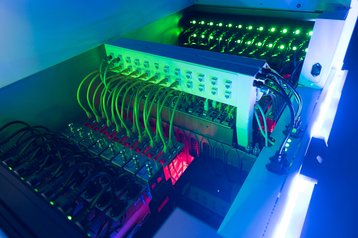 Diving in
The pilot project installed an Asperitas immersion cooling system at Mainvilliers in the data center, which is the bank's largest, with an Uptime Tier IV design certificate. The unit apparently managed more than 40 percent of the bank's workload at the site, and met the reliability and performance standards, so it can now be deployed at other bank locations.
During the test the system managed cooling during numerous weather fluctuations. The partial PUE (power utilization effectiveness) improved from 1.4 to 1.03 in the winter months, and only went up to 1.04 in a heat wave - a "perfect" PUE of 1.0 is impossible to achieve.
When installed in production, the system will improve the density of the data center, with the potential to reduce replace Crédit Agricole's current 6,000 sq m (65,000 sq ft) of white space with only 150 sq m (16,000 sq ft). "The immersion cooling solution provided by Asperitas allows us to increase the density of our data center without major work," said Jean Buet, head of data centers at Crédit Agricole.
Because the liquid-cooled units are self-contained, the upgrade will require less cooling from the data center's air conditioning units. Rolf Brink, Asperitas CEO, said: "The flexibility and simplicity of the AIC24 modules make it a highly scalable solution, without having to change the environmental infrastructure, so this outcome enables Crédit Agricole's next step in development to be quite straight-forward."
Inside the tanks, the Asperitas system uses an immersion cooling fluid from Shell, which circulates by natural convection currents. This allows free cooling up to 48°C (118.4°F), and captures more than 98 percent of the energy in the hot water, making it easy to reuse that energy.
As a fossil-fuel company, Shell is happy to contribute to a product that reduces emissions, and already uses Asperitas in its own HPC systems. "Shell is committed to working with our partners and customers to develop solutions that can help them decarbonize," said Sundeep Kamath, global marketing manager for process oils at Shell.
"Data centers today consume about one percent of global energy demand and this is only expected to grow with exponential amounts of data being generated. This innovative solution offers increased compute performance, lower costs, and a lower CO2 footprint."
The multiple module installation is due before the end of 2020, and the computing solution is provided by Dell Technologies.