UnitedCorp, which operates an 8MW air-cooled campus for cryptocurrency mining in Québec, has proposed a new 49MW campus aimed at hyperscale customers.
The proposed new "CETAC IV" campus will use the same passive cooling technology as UnitedCorp's existing Blockchain Dome campus, which draws in outside air which is cooled in underground tunnels and then piped to the IT equipment. Waste heat will go to a series of adjacent greenhouses.
UnitedCorp is inviting hyperscale firms to move in, using 6kW racks, potentially sitting alongside cryptocurrency mining rigs in the same campus.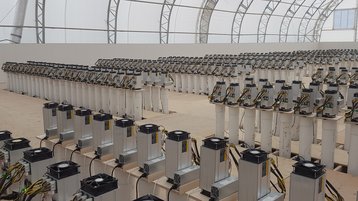 Growth potential
UnitedCorp says that it has agreed to buy a 90-acre site in Beauharnois, Québec, but still has to secure construction permits and power connectivity from Hydro‐Québec which has a substation about 450m away. The company claims that it has applied for 20 percent cheaper power under Hydro‐Québec's Economic Development Rate.
The company has no partners yet, but is issuing an invitation to hyperscale cloud‐based operators for whom "environment health and safety, sustainability and carbon offset are a priority." UnitedCorp plans to set up ten 4MW "domes" on the site, each of which it hopes will operate as a separate legal entity: it hopes to find partners by the end of this year.
UnitedCorp says the new site will be "primarily dedicated" to traditional computer servers, but will also offer its established docking stations for cryptocurrency mining. A spokesperson told DCD: "Discussions with senior managers at Hydro have taken place related to interconnection of data center. This would not at present include any cryptocurrency mining as such activity governed by other regulations and tariffs."
The data center and greenhouses would share the site, run by UnitedCorp subsidiary CETAC (Canadian Agriculture Thermal Energy Corporation / Corporation d'Énergie Thermique Agricole du Canada). Of the 49MW power budget, 40MW would be used by the data center, and 9MW by photosynthetic lighting for the greenhouses.
The new site will use ten "heat stations," and supply heat to a total of 770,000 square feet or 7 hectares of adjacent greenhouses, employing up to 150 people, the company claimed.
The site is about 90km from the existing Blockchain Dome campus in Ste‐Marie‐Madeleine, the opposite side of Montreal. UnitedCorp said that it also has plans for two other new sites for an additional 3.8 MW.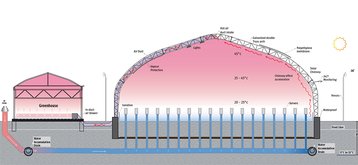 Well, well
UnitedCorp's existing facility uses "Canadian well" cooling, an established technique for cooling and heating buildings, that takes outside air, and draws it through the subsoil in pipes eight feet underground, before delivering it to the data center room. UnitedCorp reports that its Blockchain Dome campus in Beauharnois, Québec, hosts 5,000 Bitcoin mining machines, each installed on its own dock, sitting on a pipe bringing up cool air from underground.
The filtered air intake is at ground level, some 200 feet from the facility, and the underground pipes are ridged for greater heat exchange with the subsoil.
UnitedCorp describes this as a "proprietary passive‐cooling ground‐coupled heat‐exchanger," in which the server fans pull the cold air up, and the hot air then rises within the dome and is piped to a series of greenhouses, the first using hot air for a warm climate, and subsequent greenhouses using successively cooler air.
The greenhouses will grow organic produce. They will be operated at positive pressure, making it harder for insects to enter. The air-cooling system should reduce power demands by 20 percent, the dry heat will allow the greenhouses to operate all year round, and their produce will be consumed locally, reducing the carbon footprint of transporting the food, says UnitedCorp.
That all adds up to a saving of 240,000 metric tons of carbon per year, compared to an equivalent facility using fossil fuels, the company claims.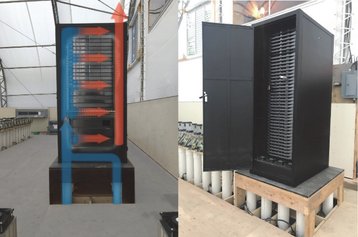 Standard cabinets
The proposed facility intends to offer hyperscale services delivered by standard servers in standard data center racks. UnitedCorp has tested the installation of "negative pressure" cabinets on the same cooling pipes, and says each cabinet will hold and cool up to 6kW of servers.
The facility will have no HVAC air conditioning, and UnitedCorp says it will be compliant with an N+1 redundancy specification equivalent to Uptime Tier III, adding: "The Agri‐Heat Stations do not require any powered cooling redundancy as all cooling is accomplished through its natural passive‐cooling ground‐coupled heat‐exchanger Canadian well technology."
Traditional operators might be put off by a technology designed for cryptocurrency miners, who don't normally require physical security or power protection.
In this case domes' construction, with a high density polythene (HDPE) exterior, certainly falls short of the physical security most data centers offer. To offset this, UnitedCorp will surround the site by a concrete wall topped with razor wire and operate 24x7 video surveillance. UnitedCorp also promises the facility will have full UPS backup.
What else does UnitedCorp do?
UnitedCorp lists a number of technology vendors on its site, most of which appear to emerge from Benoît Laliberté, a controversial Canadian inventor and entrepreneur who was convicted of fraud around the failure of the high-tech firm JITEC in 2001, and appears to own a majority stake in UnitedCorp.
Since then, Laliberté has patented a number of inventions including a system to shift voice and SMS from cellular to WiFi networks, a scheme called iFramed for monetizing social media content, and another one called BlockNum, for doing Blockchain over the telephone network
The United site also contains an impressive legal page, listing a series of attempts to sue companies including Snap/Snapchat, Facebook, Instagram and Bitmain for patent infringements over the above inventions.