CtrlS Datacenters is investing Rs 150 crore ($18.1m) in a greenfield Edge data center in the Indian state of Odisha.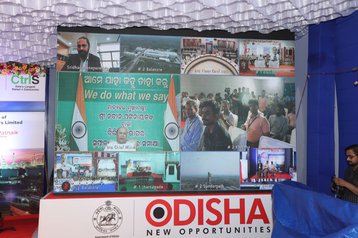 The company commenced construction on the data center in the state's capital city Bhubaneswar yesterday (May 30). The planned investment will occur in phases over the next 10 years and is hoped to generate around 110 jobs for the city of Bhubaneswar.
Long term, CtrlS plans to expand the site into a hyperscale data center campus spanning over 10 acres. This first facility will be named CtrlS Bhubaneswar 1 and offer a capacity of 5MW.
Sridhar Pinnapureddy, chairman of CtrlS, said: "The State of Odisha is a fast-growing region in India, making it a strategic destination for CtrlS' ongoing expansion. We are excited to bring our expertise to the State. Built in Infocity, Chandrasekharpur, the data center will be easily accessible to both the city center, and its airport. The Infocity site is an innovation hub and home to a broad community of emerging technologies. CtrlS Bhubaneswar 1 will be embedded into a larger ecosystem, enabling the growth of data and infrastructure-savvy businesses around the facility."
CtrlS Bhubaneswar 1 will serve hyperscale, government, and enterprise customers, providing hosting and cloud services.
The company has said that the data center will "have all the sustainability features that CtrlS is known for," though has not specified further. In April, CtrlS won the Towards On-site Net Carbon Zero award from Datacloud Global Awards for being a "frontrunner in deploying renewable energy, saving water, saving trees by its paperless office approach, eWaste management, and eliminating carbon footprint across its operations."
CtrlS has an operations footprint of 1.2 million sq ft and a further five million under construction. The company operates data centers in Hyderabad (two), Bengaluru (one), Mumbai (four), and Noida (one), as well as two Edge facilities, one each in Patna and Lucknow. Eventually, CtrlS intended to set up over 20 Edge data centers across the country.
Pinnapureddy said: "Edge data centers are the future. We are going to be present in every key city in India in a phased manner. Having started our Edge data center operations in Lucknow and Patna, we are actively working towards setting up of greenfield facilities in Ahmedabad, which will be followed by facilities in cities such as Guwahati, Jaipur, and Pune."
Earlier this year, CtrlS released a strategy saying that it would triple its data center portfolio and expand internationally. The company is currently constructing a two million sq ft (185,800 sq m) hyperscale data center park in Navi Mumbai, a similar size one in Hyderabad, and has commenced work on a one million sq ft (93,000 sq m) facility in Chennai. The three projects will add over 600MW of capacity to the company's portfolio.