European investment firm Cube Infrastructure Managers has acquired a majority stake in Nordic data center firm Glesys.
The terms of the deal weren't shared. The acquisition has been made through the Cube Infrastructure Fund III. from VIA equity Fond III, Glesys founder & CEO Glenn Johansson, and other employees and minority shareholders of the company.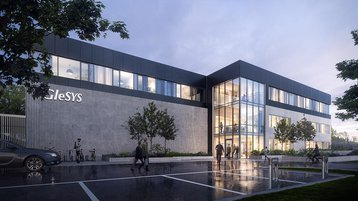 Johansson and certain key employees will reinvest in the Company alongside Cube to retain a minority shareholding and will remain as active key employees.
Stéphane Calas, partner at Cube Infrastructure Managers, said: "Cube invests in businesses providing sustainable infrastructure to growing needs in the market. Cube has partnered with several talented management teams to achieve strong and sustainable growth.
"Glesys, thanks to the quality of its services and investments to date, is very well-positioned to address the increasing needs of Nordic SMEs for digital infrastructure. We are looking forward to partnering with Glenn Johansson and his team to further grow Glesys' business."
Founded in 1999, Glesys offers infrastructure as a service offering, colocation, dedicated servers, network & connection, system management, and virtual private servers. The company owns and operates three data centers in Falkenberg and Stockholm, Sweden, and Oulu in Finland. European private equity buy-out firm VIA invested in Glesys in 2018.
Cube said it will seek to 'further accelerate' the growth of Glesys and 'be a consolidator' of the data center market.
Glesys CEO Johansson added: "Over the last years, VIA has been an incredibly supportive private equity owner for us, playing an instrumental role in our business's successful growth. I am excited about embarking on the next leg of our journey
together with Cube, as they represent the ideal partner for Glesys."
The Falkenberg facility opened in 2011 and offers 1,658 sq ft (154 sqm) of data center space. Stockholm launched in 2012 and offers 3,767 sq ft (350 sqm) of data center space. Launched in 2000, the Oulu facility offers 4,843 sq ft (450 sqm) of data center space. The company also offers cloud services in Oslo, Amsterdam, and London.
Daniel Hallberg, investment principal at VIA equity, said: "We are very proud of having
supported Glenn Johansson and the amazing Glesys team the last five years in building the leading Nordic hybrid cloud and Infrastructure as a Service platform. We firmly believe the new partnership with Cube is a perfect match that will enable continued success for the business."
Founded in 2007, Cube is a mid-market infrastructure investor. The company acquired German data center firm FirstColo in October 2022.
Cube's other digital investments include Spanish fiber to the home providers Asteo Red Neutra and Vento Rede, Italy's Unifiber, Dutch fiber firm Rodin, Czechia's Scancom, RuNe Croatia and Slovenia, dst telecomunicações in Portugal, Covage in France, European Sigfox provider Heliot, cable provider IslaLink, and Trooli and G.Network in the UK.
Cube was advised by REYL Intesa Sanpaolo, DLA Piper, Alvarez & Marsal and Fide. VIA, and other owners were advised by Torch Partners, Deloitte, Arthur D. Little, and Vinge. Management has been advised by the Censor M&A and Forssander Sonander law firm.