Power generation specialist Cummins has partnered with Ceres Power to deliver a fuel cell built to specifications of the US Department of Energy.
Ceres Power will get $2.6 million for assisting on a $4.9 million project, which aims to develop a 5kW cell powered by solid oxide.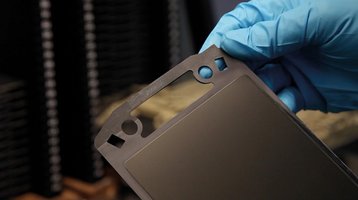 Solid work
A Solid Oxide Fuel Cell (SOFC) features a solid ceramic electrolyte material and produces electricity directly from oxidizing a fuel, such as natural gas or biogas. It can help achieve high efficiency, long-term energy stability and low emissions at a relatively low cost - but high operating temperatures can cause a slow start up, and for the product to wear out.
California-based Bloom Energy has proved the most successful at bringing SOFC tech to the data center, signing up Google, eBay, Equinix, NTT, CenturyLink and Verizon as customers. But, after raising more than a billion dollars to commercialize the work done by founder and CEO K.R. Sridhar for NASA, the last of the cleantech unicorns has seen its valuation drop significantly.
We shared our concerns on the business last year, and in March private equity firm GSV Capital Corp sold its stake in the company at a loss, calling it "dead money."
But Bloom has soldiered on, with the ES5 Energy Server promising 65 percent efficiency, a jump up from the first version's 48 percent. The new system will be installed at the Apple Campus 2 next year.
The Department of Energy project, meanwhile, is targeting 60 percent efficiency, and will be scalable to meet multiple distributed power applications up to 100kW. The product aims to target the data center market first, and will rely on Ceres' Steel Cell technology. 
If everything goes as planned, the product could cut current overall data center costs by more than 20 percent and reduce their carbon footprint by up to 49 percent.
Ceres CEO Phil Caldwell said: "This is a very exciting opportunity for Ceres Power to work with Cummins and the US DoE to address the rapidly growing market for cleaner distributed power for data centres and other commercial applications and strengthens our relationships in North America, a key market for our Steel Cell technology."
Wayne Eckerle, Cummins VP of corporate research and technology, added: "We are looking forward to working with Ceres Power, UConn, and PNNL to develop and ultimately commercialize this technology that can reduce costs for data centers and other potential customers while helping improve our environment.
"This is another example of technological collaboration that is a win for our companies, a win for our customers and a win for the environment."
Cummins has experience in the market, having been awarded a $20-$75 million contract in 2001 to work on SOFC technology.