CyrusOne has broken ground on a new data center in Madrid, Spain.
The company this week announced it had broken ground on the data center in the Spanish capital. The facility, located in the municipality of Alcobendas, is CyrusOne's first in the country and first European site outside the traditional FLAP-D markets.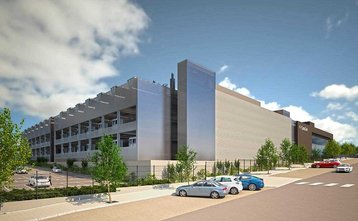 CyrusOne acquired the freehold purchase of the 5-acre site last year, and is constructing a two-story building with 18MW of total IT load across more than 6,000 sqm (64,600 sq ft) of technical space. The facility will generate around 100kW on-site through roof mounted solar PV panels (ie half of one percent of the sites power needs).
"We are excited to further expand our European footprint and enter the Spanish market for the first time," said Richard Brandon, CyrusOne's Vice President and Head of Design & Construction in Europe. "Demand continues to be strong in Madrid as an increase in investment by cloud service providers presents an opportunity for hyperscale data center development. It is the right time to be present and on the ground in this key location, offering our customers capacity and choice across the continent."
The groundbreaking ceremony attendees included executives from CyrusOne, construction company Itercon, engineering consultancy Quark, Turner & Townsend, JLL and health & safety advisors Q Safety.
"We are thrilled to have been selected by CyrusOne to manage this impressive new data center project. Our team at Itercon are passionate about delivering world-class sustainable projects and facilities of this nature," added Itercon CEO, Manuel Marín. "It's been a pleasure to work with CyrusOne and the other partners, and we look forward to the next phase of the build, ahead of the planned completion in April 2024."