US-based operator CyrusOne has broken ground on its first Irish data center campus in Grange Castle Business Park South, near Dublin..
Called Dublin I, the 74MW campus will consist of three buildings offering a total of 33,445 sq m (360,000 sq ft) of technical space. Each of the three buildings will provide 11,148 sq m (120,000 sq ft) of technical space, split across two floors. The first phase is expected to be completed by Q4 2020 and is already taking customer requests.
Green tech hub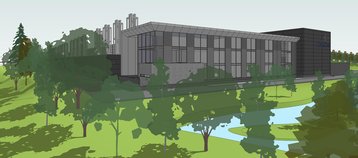 Although the site is the largest colocation data center currently under construction in Ireland, CyrusOne said it has made extensive efforts " to ensure a sustainable build and to preserve local wildlife," with the campus featuring rejuvenated grassland areas, as well as pollinator-friendly planting and a habitat for amphibian wildlife.
The firm believes this so called 'green wall' around the site will help make the buildings more energy efficient and act as carbon sinks reducing overall carbon emissions.
"Ireland is an incredibly attractive place to do business, and Dublin in particular has established itself as one of the world's thriving tech hubs," said Tesh Durvasula, European president at CyrusOne. "The level of demand for spaces from enterprise customers has been great, even in these early stages of construction. We've made a clear commitment to expansion in Europe and building our presence in Dublin sits at the center of this strategy."
Dublin 1 uses CyrusOne's 'massively modular" design approach, with dedicated electrical plants for each floor, and a low PUE delivered by the use of closed loop chilled-water cooling. That system uses an air-cooled chiller technology with an integrated compressor and condenser that cools the closed loop of water. This in turn reduces water consumption.
Roof-mounted solar panels will supplement the main power supply.
Other features include 900 mm heavy duty raised floor with 4,200 mm clear height in the data hall; as well as active / active dual redundant power supplies of 80 MVA.
The campus will be carrier neutral, and CyrusOne says there is diverse fiber connectivity from multiple providers.
There is also a secure managed delivery bay with a three tonne goods lift, plus multi-layer levels of physical and electronic security with 24/7 year round onsite support.
Last month a report from Bloomberg reported that Dallas-Texas-based CyrusOne had become a takeover target after a year of overseas expansion put its finances in the red, but CyruOne has refused to comment on the speculation.