American colocation specialist CyrusOne has broken ground on a 654,000 square foot data center in Sterling, Loudoun County, Northern Virginia.
This is the company's fifth facility in the state. "Our rapid expansion in Northern Virginia is indicative of the growing need for our hyper-speed and hyper-scalable data center solutions," Kevin Timmons, CTO at CyrusOne said.
"We pride ourselves on building large scale data centers at record speeds and look forward to expanding our services quickly while also continuing to make major investments in Loudoun County."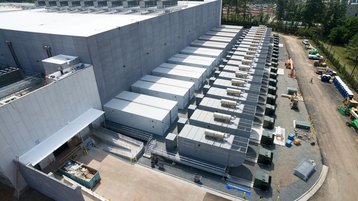 Big and getting bigger

CyrusOne owns and operates 35 carrier-neutral data centers worldwide. The company has been going through a period of rapid expansion, enabled by its 'Massively Modular' architecture which can deliver a data center in record time.
CyrusOne already runs one 129,000 square foot facility in Sterling, and is nearing completion of another one.
Its third facility in the small town is located on a 40-acre plot of land that the company acquired earlier this year. It said at the time that this latest project could bring in as much as $1 billion in new investments to Loudoun County.
The upcoming data center follows the same design principles as its predecessors, featuring 2N redundancy across its power systems and ability to support high-performance computing with power densities of up to 900 watts per square foot.
The facility will enjoy direct access to one of the largest fiber hubs in the US, and offer interconnectivity through the CyrusOne National Internet Exchange (IX).
Northern Virginia is home to one of the world's largest clusters of data center real estate, with up to 70 percent of the world's Internet traffic passing through Loudoun County on a daily basis. Prince William County alone is now responsible for more than three million square feet of white space.