Texas-based colocation provider Data Foundry has opened its fifth data center, Texas 2, in Austin.
Built adjacent to Texas 1 on Data Foundry's 43.5-acre 'Data Ranch' campus, the facility spans 325,000 square feet (30,190 sq m), of which 165,000 square feet (15,200 sq m) is raised floor space.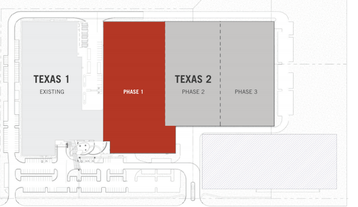 The ranch grows
The facility has 36MW of power supply and is capable of serving high performance computing (HPC) customers, supporting power densities of up to 50kW per rack. The site features 750 kVA Toshiba UPS systems, back-up generators from Cummins and 40,000 gallons of underground fuel storage, in case of energy supply issues.
"Texas 2 opens in time to meet a growing demand for premier colocation with cloud connectivity in the Austin area," Mark Noonan, Data Foundry's chief revenue officer, said. "Texas 1 is at high capacity, and Texas 2's first tenants have already started moving in."
The company's chief operating officer, Cameron Wynne, added: "Companies chose Texas 1 for its security, reliability and our attention to detail when it comes to design and construction. They can expect no less from Texas 2."
The Texas 2 facility was originally revealed in planning documents in 2016, with the application estimating the cost of the data center at around $40 million. In a 2018 specifications document, further expansion is shown as being considered in two more phases (see image above).