French data center firm Data4 has announced plans for a new data center campus outside Paris.
First reported by L'usine Nouvell and DCMag.fr, the new PAR3 campus will span 22 hectares in Nozay in Essone, to the southwest of Paris.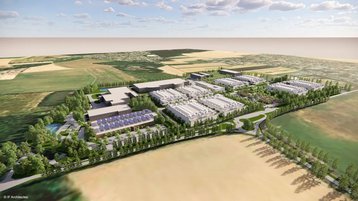 "We are very pleased to announce a new major project for Data4: the creation of the new PAR3 data center campus in the municipality of Nozay, which will be located 5km from our two Marcoussis campuses (PAR 1 and PAR2), in Essonne," the company said. "A big thank you to the Mayor of Nozay, Didier Perrier, and all his team for their commitment as well as to all the stakeholders who made this beautiful project a reality."
Data4 aims to develop a total of eight data centers with a total area of ​​32,000 square meters and 120 MW of capacity. The company said it aims to invest €1 billion ($1bn) by 2030 in the project.
The site was previously Nokia's head office in France. The company didn't disclose how much the property was acquired for.
Olivier Micheli, president of Data4, said: "This acquisition is part of our ambition to quickly reach a capacity of 1GW and to be the pan-European reference player in the data center sector. We are thus strengthening our roots in the south of Paris. After the transformation of the former Alcatel industrial site in Marcoussis into a data center campus, the takeover of the Nokia site in Nozay underlines our territorial commitment as well as our desire to work and make our local ecosystem grow."
The new development will reportedly be integrated into a local district heating scheme.
Data4 operates two other data center campuses nearby in Macoussis, the first of which opened in 2007. At full build out the three French campuses will total 375MW. Combined, PAR1 and 2 offer a total potential capacity of 255MW across 24 data centers and 111 hectares.
Established in 2006 by Colony Capital (now DigitalBridge), Data4 currently operates 29 data centers in France, Italy, Spain, Poland, and Luxembourg. The company is also developing a former army barracks in Hanau, Germany that could reach 200,000 sqm (2.1 million sq ft) and 180MW.
The company was acquired by AXA Investment Managers for an undisclosed amount in 2018, with Danish pension fund PFA acquiring a 20 percent stake in 2020. In 2021 the operator secured €620 million (then $737.5 million) in debt financing to fund its expansion goals across Europe.
Brookfield Asset Management is reportedly in talks to acquire the company.