Datum Datacentres is to adopt hydrotreated vegetable oil (HVO) to replace diesel for its backup generators.
The company this week announced it will be working with Keysource to transition backup generators at its facility on the Cody Technology Park, Farnborough from red diesel to renewable HVO (hydrotreated vegetable oil) fuel.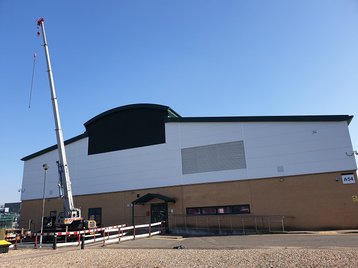 HVO is a synthetic paraffinic diesel, made from vegetable oils or waste reprocessing with added hydrogen. It is a drop-in replacement fuel that can be used without modifications to existing engines.
A number of companies are looking to diesel alternatives as a way to reduce their carbon footprint. UK operator Kao, Digital Realty/Interxion France, Compass in the US, and Latvia's DEAC are all looking to adopt HVO as fuel for their backup generators. Kohler recently approved all its gensets to run on vegetable oil.
Datum operates the Datum FRN1 facility in the Cody Technology Park in Farnborough, located outside London. The 40,000 sq ft (3,716 sqm) facility was built by KeySource in 2012 and uses adiabatic cooling which the company said allows it to achieve a PUE of 1.25. The company has signed Renewable Energy Guarantees of Origin (REGOs) to offset its energy use.
"We will be filling one of our fuel tanks with HVO in the coming weeks and the second will be refilled with HVO, when required," the company said in a blog post.
Datum aims to become carbon neutral by 2030. It said the move to HVO will reduce greenhouse gas emissions by as much as 90 percent, NOx emissions by as much as 27 percent, and Particulate Matter emissions by as much as 84 percent compared with conventional diesel.
Dominic Phillips, Managing Director at Datum, said: "Sustainability is very much in our DNA and with our ongoing partnership with Keysource, which spans over 15 years, we are confident in our strategy and roadmap. This move to introduce HVO fuel at our Farnborough facility is part of that and has meant that we can reduce our GHG emissions almost immediately."
Jon Healy, Operations Director at Keysource, added: "As sustainability and ESG have been catapulted to the forefront, turning to HVO fuel is a natural step for Datum to reduce their impact on the environment. Importantly, the Keysource role enables Datum to do this confidently without disruption or impact to performance and is just one initiative planned to reduce whole life-cycle carbon emissions."
UBS Asset Management Real Estate & Private Markets acquired a 100 percent stake in Datum from Darwin Private Equity in September 2021.