DCD has opened the Living at the Edge category of its annual data center awards, which seeks to celebrate facilities located as closely as possible to the people and organizations they serve.
Edge data centers are typically smaller than an average colocation facility, and are designed for very specific functions, like content delivery or industrial automation. They require innovative approaches to power and cooling, and are often built to withstand the harshest environments.
The DCD Awards Living at the Edge category will be judged by a panel of experts, and is being sponsored by Panduit, a global specialist in network connectivity and power distribution solutions.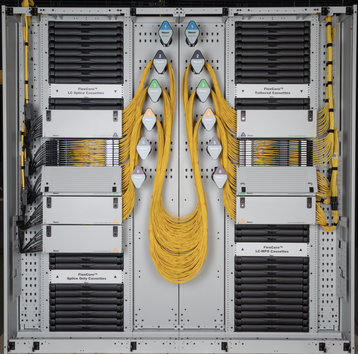 Celebrating original design
"From a rooftop in Manhattan to a car park in New Delhi, a factory floor in Frankfurt to a mobile mast in Manila; the 'edge' means many things to many people. This updated award category seeks to celebrate the rising tide of edge data centers in all its forms," said George Rockett, co-founder and CEO of DCD.
The award category is open to vendors, consulting engineers and contractors who can nominate projects on behalf of their clients. To be considered, entries must be wholly or partially operational by August 2017. The winner will demonstrate a unique and innovative approach to housing IT at the edge of the network that can act as an example to the wider industry.
"We are delighted to be the sponsor of this year's Living at the Edge Award; it puts a spotlight on the innovation happening in one of our industry's most exciting frontiers - one that is driven by better connectivity," said Marc Naese, vice president of the Data Center Business Unit at Panduit.
The judges for the category are:
Anshu Sharma, SVP and head of Technology Infrastructure at Vodafone
Yuval Bachar, principal engineer for Global Infrastructure Architecture and Strategy at LinkedIn
Robert Thorogood, chief technical officer at Hurley Palmer Flatt
For more information and to enter, visit the DCD Awards website.
The entry submissions phase will end on Friday, 29th September. It will be followed by the customary rigorous judging process. The program culminates with a gala dinner and awards ceremony on 7th December, 2017 at the recently refurbished, five-star Lancaster London Hotel by Hyde Park, where you can book your table now.