Schneider Electric has launched new scalable 500kW, 1000kW and 1500kW uninterruptible power supplies (UPSs) in its Galaxy V-Series range. Launched at DCD Webscale in San Francisco, these models can be used to shave demand during peak periods. 
The Galaxy VX series uses a modular design so power system redundancy and capacity can be scaled up using incremental 250kW cabinets. They also containt two input/output (I/O) cabinets, giving internal redundancy alongside the ability to scale. The modular architecture also makes the system more reliable and easier to repair.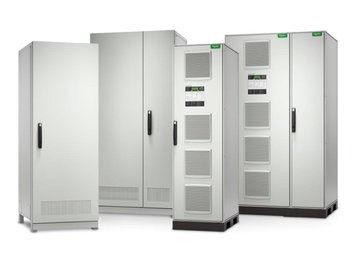 Exploring the Galaxy
Data center operators are being encouraged to save energy during peak usage periods through demand reduction programs, in which they take their data center off the grid temporarily by opting to briefly run it from the UPS. However, the Energy Smart sessions within the DCD event heard that data center operators perceived a risk attached with such schemes. 
Lithium ion technology make such schemes less risky and more attractive, says Schneider, as Li-ion-equipped UPSs will be able to charge and discharge more quickly, and also be more manageable. The new VX models will be more able to store renewable energy for use during peak periods so peak demands on the grid can be shaved, increasing the overall energy efficiency of the data center and the local grid, and recuding overall emissions. 
The Galaxy V-Series includes the medium-scale VM series, launched in 2014, and the larger VX Series, launched in 2016. The VX series has the option of lithium ion batteries, and can deliver 99 percent efficiency using its ECOnversion mode, which is a compromise between efficient eco-mode and reliable dual-conversion mode.
The systems are managed by Schneider's StruxureOn cloud-based remote monitoring as well as EcoStruxure data center infrastructure management (DCIM) software.