Thailand's regional summit for data center and cloud infrastructure brought together over 350 thought leaders, influencers and pioneers of the industry at Centara Grand in Bangkok on February 13. The agenda of DCD>Indochina revolved around recent government initiatives and investments in light of Thailand's Digital Government Plan 2017-2021 to achieve the 4.0 Digital Agenda.
The event kicked off with a half-day workshop the day before the main conference, chaired by John Duffin, managing director of Uptime Institute. "The Asia Pacific market continues to be competitive as expansion into cloud services and other managed services increases, providing new ways for organizations to differentiate themselves," said Duffin.
Delegates were given insight into what lies ahead for the IT infrastructure market, and what one needs to consider to prepare for the future - addressing key topics from hybrid infrastructure and leveraging the cloud; deployment of fundamental technologies and improving overall performance; to increasing efficiency and reliability.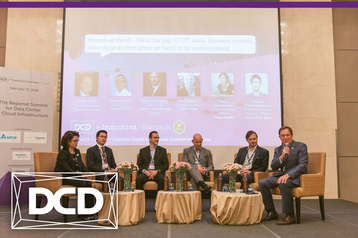 Building out your infrastructure in an era of change
Thirty local and international thought leaders from technology providers, ecommerce, banks, education and other enterprise sectors shed light on two main questions: What does the next frontier in Thailand's digital aspirations mean for future capacity requirements? And with the Internet of Things (IOT), artificial intelligence (AI), 5G, Robotics and digitalisation all accelerating, what will be the new demands on data center and cloud infrastructure?
The conference addressed major trends in the Indochina region including outsourcing and consolidation, virtualization, software-defined and cloud environments. Senior IT professionals were left with practical takeaways on how to best approach such issues, in light of transformations in the data center space, with input from panelists such as
Sharkrit Impat, Senior Infrastructure Engineer at Agoda Pte Ltd,
Chatchawarn Jirupathum, Group IT Operations Manager at RMA Group,
Pasamon Pechrasuwan, Consultant, Energy & Environment at Frost & Sullivan,
Samir Borkar, Senior Vice President, Head - Data Center Solutions & Services at Siemens,
Walter Miros, General Manager, Bridge Data Centres
"Being part of the event as a presenter and panel member gave me the opportunity to touch base with other peers in all kind of branches. Exchanging experiences and discussing similar issues were the best takeaways from this event," said Edwin van Poelje, acting chief information officer at Linfox International Group.
View highlight photos from DCD>Indochina 2018 here.
What's next – DCD>Indonesia 2018
Coming up, the sixth annual DCD>Indonesia conference will convene over 500 regional and international data center experts and IT decision-makers. Also featuring an Uptime Institute workshop and full day conference & expo format, as shared at the recent DCD>Indonesia Pre-event Launch. Join local and international industry leaders such as Leo Chen of AirTrunk, Yudho Giri Suchayo of University of Indonesia and Frenky Tjioe of South-east Asia's largest e-commerce company to review the current data protection landscape and discuss how hybrid IT infrastructure can help accelerate digital transformation for enterprise IT.